Several weeks ago, I was contacted by
Gracious Style
and asked if I would be interested in doing a product review for them.
Free stuff? Ummm, yes, please! I was given several options of what I might like to review. Ultimately, I selected the Fabric Fresh from the Laundress collection. I was already familiar with the All Purpose Bleach Alternative from this line and knew it was amazing. So, I decided to go with something else from their collection. On the bottle it actually says, "Spray in the air, on yourself, and everything in your live that is fabric." Isn't that cute?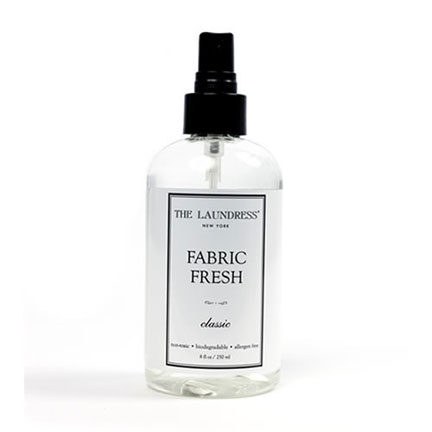 The timing was perfect. When I got the spray, we had house guests coming to stay for the weekend. So, I decided to conduct my very own experiment.
There are so many little inexpensive things you can do to make house guests feel special. You can include fresh flowers in their bedroom,
a stack of current issues of their favorite magazines or great books on their bedside table,
even a beautiful decanter of water to quench a midnight thirst.
or you could iron their bed linens and spray them with a wonderful scent. Ironing bed linens really just cost you some time in the laundry room, but the results are a decadent hotel experience for your guests. So, that's what I did. . .
I did not mention this little experiment to my sister-in-law when her family arrived for the weekend. I truly wanted to see if she would notice.
The next morning, we got up for coffee . . . not a word. So, I asked,
Me: "Did you sleep well?"
SIL: Yes, slept great.
Still not a word about the sheets. So finally I could not stand it any longer.
Me: Did you notice anything different about the sheets?
SIL: Yes! They were ironed. So nice to get in a crisp bed.
Me: Did you notice anything else?
SIL: Like what?
Me: Like how they smelled?
SIL: You know, they did smell very fresh and clean now that you mention it. But it was subtle, not overpowering at all.
Me: Well, that's win in my book!
I think a great linen spray does not overpower you. That's the last thing you want when you get into bed. You want a subtle freshly washed scent. Also, I didn't mention this but the scent of all the Laundress products is nothing like I've ever smelled before. The only way I can describe it- a clean, slightly masculine scent - sort of a hint of a high end men's aftershave. If that makes sense?
Since my little experiment, I've been spraying our bed linens when I make the bed each morning. It makes it feel like fresh sheets every night! So, there you have it, my first product review. Hope everybody has a wonderful day. M.