If you recall, I did a post recently entitled "Fans I Can Stand" which sums up the fact I'm just not crazy about them in a space. However, I recognize they're practical and will never go away! In the initial post, I did include a few fans I can tolerate (
click here to get the scoop
). But my approach is a "make it go away" one when I'm forced to select a ceiling fan.
Well, this past week, I met with a cute client who has just moved to Birmingham and is making all kinds of fun changes to their new house. She had sent me a picture of this ceiling fan she was getting for you master bedroom. I thought it was an interesting idea. Well, I actually saw it in action this week and frankly was shocked by how great it looks!
It's a substantial (much bigger than I thought from the images) linen drum shade, and the fan is hidden inside the drum. Also, the linen shade does a great job at diffusing the light for a nice effect (it's much softer in person rather than the light spots in the image below).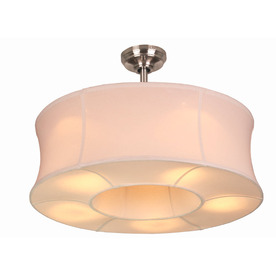 And believe it or not, the fan is quite powerful and does push the air down and out into the room for a great breeze. So, if you MUST have a ceiling fan in your master bedroom, here's a great option. Enjoy your weekend! M.