While I love to talk about interior design, one question I get a lot is "What do you recommend for removing stains?" And let's face it, although the holidays are filled with wonderful, joyful moments, there are plenty of opportunities especially during the next 60 days for stains to happen.
And maybe just anytime of year! This image totally cracks me up.
But with a little knowledge and a few products on hand, you can sail through any mishaps. Remember, it's not "if" but "when" with stains. The goal - to be ready to attack an accident like an ninja on a mission and not let it ruin your party!
To figure out what to use on the stain you have to consider two things: 1) the rug material and 2) the kind of stain. Without considering this you will be doing more harm than good when attempting to clean it. In fact, some of the stain removers will become part of the stain if not selected thoughtfully.
Hands down, the best rug material for stain removal is wool. It is one of the most expensive rug materials for a reason. So, when you are considering a rug for a high traffic area, it may be counter intuitive, but the more expensive wool will be easier to clean and last longer.
OK, so let's say you didn't select wool, your next best effort for getting the stain out is to consider the stain itself. Here is a great chart that outlines what to use on different kinds of stains. Yes, this chart is long and boring, but when you need it, it is invaluable. So, bookmark it now and refer to it before touching that stain with any product!
Spot Removal Chart
Now, I want to highlight just a few products you need to stock up on in preparation for the holiday
stains
season. Remember, the chart alone, is not going to save you if you don't have the products on hand. Consider this a life preserver - you hope you never need to use it; but if you do, it's there.
So, here are a few tried and true products.
Capture
This is an excellent dry powder cleaner. One of my vendors told me about this product, and he was right! You can also leave it on the spot overnight, if it's a super tough stain. It will even remove an old stain (as in two years old). The biggest negative with this product is it's a super fine white powder (think baby powder) which makes it difficult to completely remove when you're finished cleaning the spot. If you're not careful, it can even clog the vacuum cleaner! Also, it's white, so if your rug is dark, you may want to consider one of the others in my arsenal.
Host
I just discovered this product from a very savvy client of mine. She is on top of everything, and I learn lots of things from our visits! After she told me about this product, I started noticing lots of sisal rug websites mention it by name on the "spot removal" page. So, that speaks volumes. It is also endorsed by Martha (which again, enough said).
It is a dry fine textured powder (like Capture), but what I like about it is that it's not white.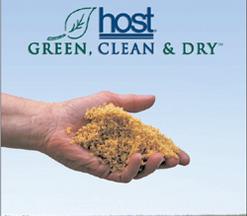 It is the color of a natural sisal rug! So, if you aren't able to remove every last bit of it, you will never notice. They also make a
pre-stain spray
you can use on your sisal when it first arrives - sort of like the spray guard you use on suede boots. I've not tried this product, so if any of you have, I would love to hear from you.
I am including this one on the list, because it is great for removing tar, chewing gum and any oil based foods like cream, gravies and sauces. Also, it's not a product I ordinarily have hanging around in my pantry. So, stock up on it now.
Spot Shot
Most of the pros do not recommend a liquid spot remover. Which is interesting since most spot removers you see in stores are a liquid. The biggest problem with a liquid is that it wets the spot even more and makes it difficult for you to tell if you've completely removed the stain. Then, you have to wait for the spot to dry. After it dries, it becomes "set in" and even more difficult to clean. With that said, there is one liquid remover I love and do use. I have had great results with this product on carpet for pet vomit (yes, there, I said it). It happens, what can I say! One too many treats and WHAM - always on a rug.
Now, I've really focused on carpets and rugs, but I do love this product which can be used on furniture as well. Believe me, if you have light colored furniture, you need Wine Away. When the spill happens you simply spray this on and it magically disappears (really).
So, there you have it. Those are my favorites for keeping your spaces beautiful. With a little pre-planning, you too can entertain without worrying about spills! Happy Weekend, everybody! M.