With all the things on your plate this time of year, I thought it would be fun to give you a little something special. Shabby Apple, one of my favorite online boutiques, has graciously offered to give one lucky winner a $50 gift certificate. In addition to the one lucky duck who gets the $50, they are offering a 10% discount to all Musings readers for the month! Woo Hoo!!! All you have to do is use this promo code at checkout: interiordesignmusings10off and your discount will apply!
If you are not familiar with Shabby Apple, I'm about to change your world. Whether you're looking for vintage dresses, unique bracelets, shirtdresses, cozy scarves, lace dresses, chic sling backs, and even maxi dresses, Shabby Apple is THE place.
Here are just a few of my favorites as of late.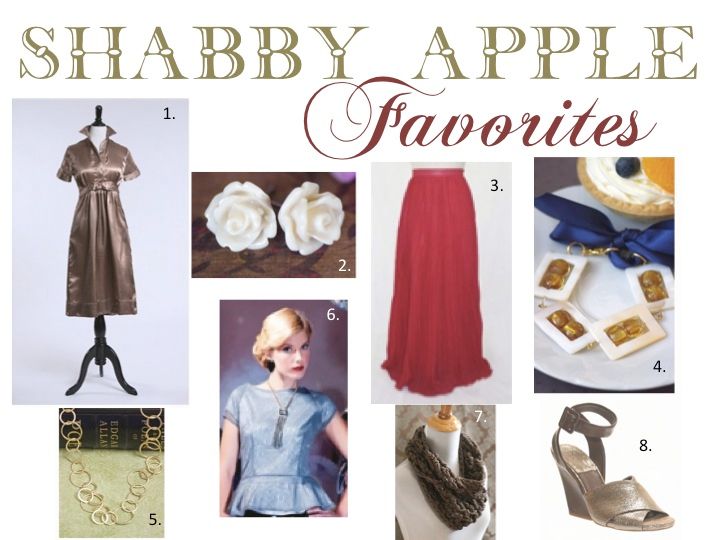 Also, many of you have mentioned to me when I've hosted giveaways, what's the catch? I think some of you have been burned by sweepstakes entries where you get on every single mailing list imaginable after entering. Well, that's not the case here. There is no catch. Just an effort to connect you with some wonderful companies you may not be familiar with on the web. So, I encourage you to give it a try! I promise it will not disappoint.
1. To be eligible you MUST click over to www.shabbyapple.com, pick your favorite item

AND come back and leave us a comment about it!
Be sure to include a separate comment for each extra entry (up to 4 entries) including contact information (so I can contact you when you win)! Winner will be selected by random.org.
Deadline for entering is next Wednesday, December 19th at 5:00 PM Central.
Good Luck and Happy Wednesday! M.