OK, I'm sure you are more than ready to see the finished product here. But, you have to remember, renovations take time. I think we get way too comfortable with the "HGTV see it all in one episode" method and forget that renovations require patience. They can be inconvenient, time consuming, and frustrating. But, in the end, totally worth the effort! For more background on this lake house project check out these posts -
Update I
,
Update II
and
Update III
.
The structure of the screened porch is complete.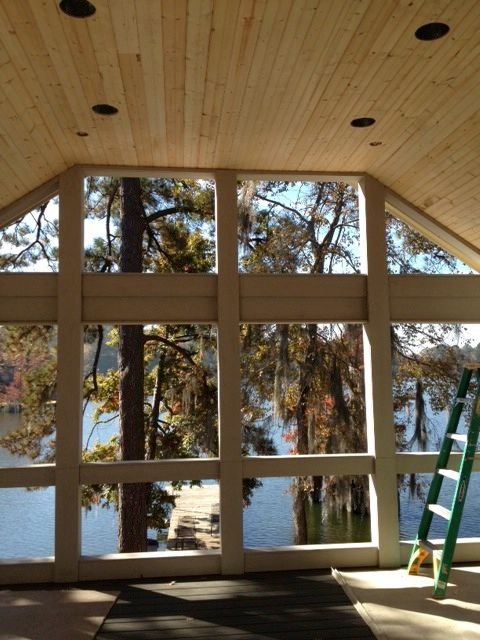 Here is a view from the side of the house. These steps were already there, so they incorporated them into the new porch.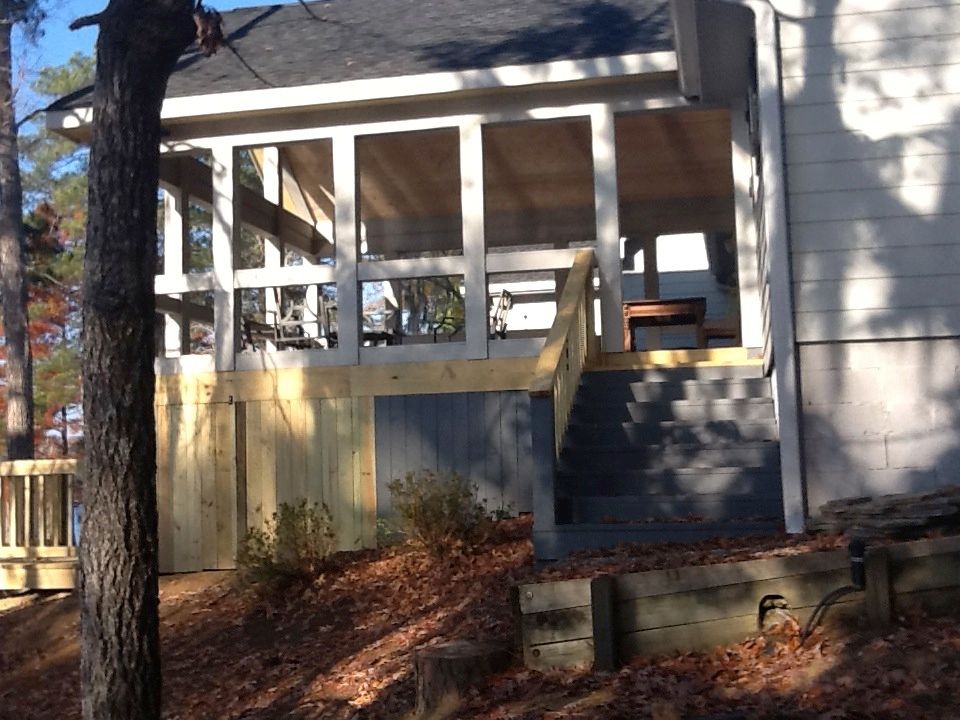 So, what will we be doing in the way of furnishings you ask?! Here's the plan.
In the picture above, the lake is to your left. Also, there is a large TV to be hung on the wall to your right. So, we really needed a furniture layout that would work with dual focal points. Here is the design board for the space. We really wanted the space to feel like a room, and I think we've accomplished that with this plan.
Just a few things to mention, for the ceiling in the screened porch area, we decided on a white wash treatment to keep the space light and airy. This will also provide the contrast we need with the new chandelier and ceiling fans.
The fans will flank the corners next to the house and the chandelier will float in the center of the space. As most of you know, I am not a fan of your basic ceiling fan in the center of a room. However, with a screened porch, you must have fans for air circulation. So, when we started thinking about fans, this image popped into my brain!
After doing some research, we learned that these particular fans were not in the budget. :( These were a whopping $585.82 each - and very irritating to me!
But I refused to be deterred! So, I did some sourcing and found these look-a-likes in our price range. They are only $129.00 each! And still have that vintage feel to them.
If you are willing to do the work, you can almost always find a similar look for less. You just have to do the work!!
OK, back to the design plan . . .
Here are a few other things I wanted to mention about this plan. Our goal was to have the look of an indoor room, but with the durability of an outdoor space. These days, there are many wonderful furnishings that are made of materials that will withstand and outdoor setting, you just have to look for them. For example, the side tables are concrete, the coffee table and dining chairs are metal, the rug is indoor/outdoor, the ottomans are slipcovered in Sunbrella fabric. Also, the sofas and wicker chairs are all outdoor furniture. The dining table is not an outdoor piece, but we have placed it near the house for maximum protection from the weather. It will age beautifully in the space.
Mind you, all these pieces were sourced on a budget. So, you can have a beautiful space without breaking the bank! Just to know, the install for this space is complete and I will be showing you the finished product next week. I hope you have a wonderful day!
PS: If you would like some help creating your our outdoor oasis, I am happy to help you! Just click over to my interior design page and drop me a note! (
click here
-
Mandi Smith T Interiors
)