I've been thinking about sharing this post with you for awhile. But, it's not the most glamorous of topics; and it always seems to get pushed to the back of the list of posts when something more interesting pops into my brain.
No, I'm not talking about your character. This is an interior design blog, remember?! I'm talking about pillow inserts! The topic can be boring, I admit. So, in an effort to encourage you to read on, I'm going to include some of my favorite images with luscious pillows.
Now, don't let the lack of glamour of a pillow insert fool you - what I'm about to share is some real inside scoop and will completely transform your spaces. While the fabric you select for your pillows is very important, what's inside the pillow cover is essential to the look.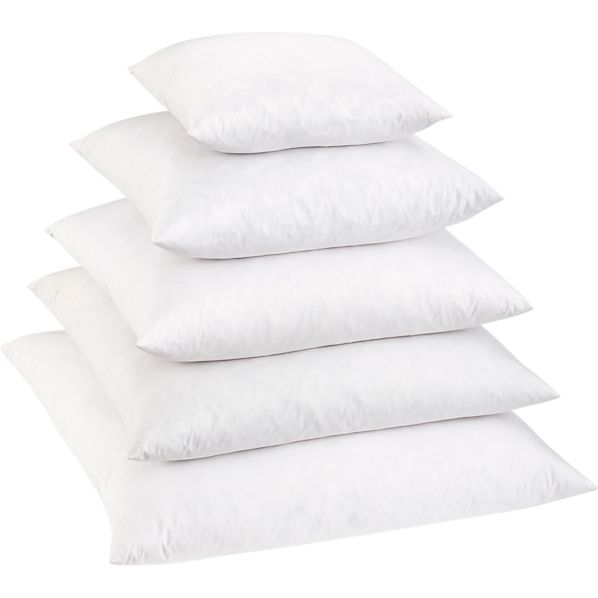 Since it is not seen, most people do not realize how important it is (like properly hung drapery panels which is entirely separate post I must get to at some point). I don't say this lightly - the pillow insert can take your pillow to a whole new place. In fact, I've had clients who have asked for new pillows and instead I talked them into simply ordering the proper insert only to find the covers look fantastic and did not need to be replaced.
Show Me What You're Made Of!
In order to get your pillows to look like a magazine spread, you need to use feather/down inserts. Now, I can hear some of you now saying, "I had a decorator talk me into down pillows and we had feathers everywhere. They made my pillows prickly."
Well, your decorator did not select the right feather/down composition for the inserts! You see, the insert needs to have just the right about of feathers - too many and they stick you and too few and the pillow is as flat as a pancake.
The goal is to have a ratio which will make the pillows plump and full, but when you lean on them, they envelope you in a cozy way. Now! I've got you thinking about it. Who doesn't want to be enveloped? Right?!
So, what's the magical ratio? My preference is an insert with a composition of 70 feather/30 down.
Does Size Really Matter?
I knew that subtitle would get your attention! OK, so we are still not finished here. The composition of the insert will take you just so far. We also need to address the proper size of the insert as it relates to the cover size.
For the pillow to "fluff" up and show off the beautiful fabric you've selected, the insert needs to be one inch wider and one inch taller than the cover. In my opinion this is the perfect size. Some people recommend a 2" larger insert. But with the 70/30 composition, I think the 2" rule makes the pillow so tight it does not feel cozy when you lie back on it. PS: this trick will not work with a poly insert! I've had clients who have mistakenly tried! You cannot stuff a poly insert of this size into your cover - bad idea.
Now you know the trick! Shhh. Keep it under your hat. Happy Weekend. M.
PS: if you would like help sourcing pillows or inserts for your pillows, contact me. I can help you! I have access to lots of sources - Mandi Smith T Interiors.