I bet you've seen something similar to this before - maybe in an antique store or flea market. Maybe you've wondered about it's origin. It's called Tramp Art.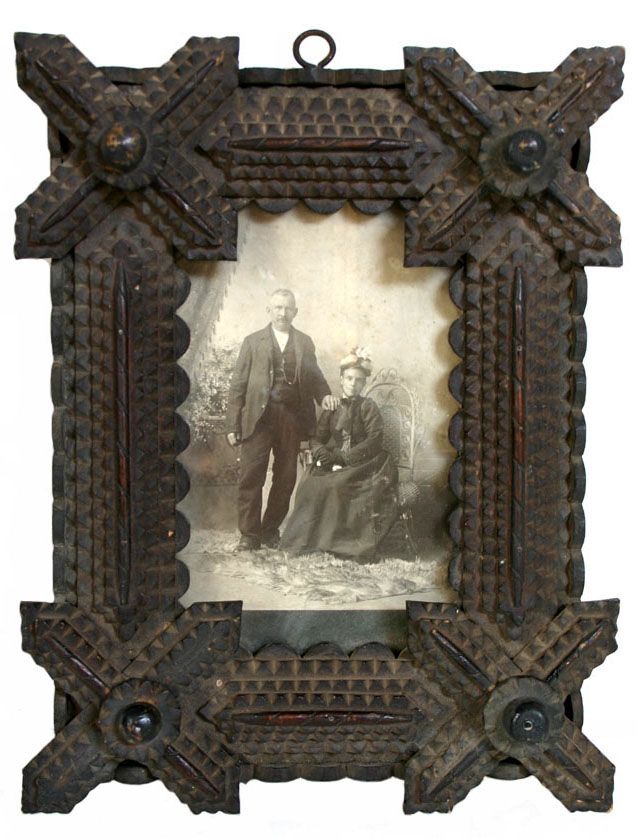 Here's the story - Tramp art is carved artwork and it was made in the United States following the American Civil War through the late 1930's. It is believed to be artwork made by mainly poor, untrained artists from a broad range of nationalities.
via
These artists commonly used discarded wood (such as cigar boxes) to create wonderfully intricate items.
While it is argued that most Tramp Art was made by individuals who lived a very transit lifestyle, other experiments disagree as many of the larger pieces could not have been completed by someone who moved around.
These larger pieces would have required a great deal of time and space to produce.
While many artists of Tramp are unknown, there are pieces that can be associated with specific artists. This really varies from piece to piece. If you have some of this, you may want to have it appraised!
Here is a very large Tramp Art mirror hung over an upholstered settee.
I think this artwork is so interesting. It's highly collectable these days, and I could see it possibly included in a more traditional home filled with English Country furnishings as well as in a more modern space with a knob to the past. What do you think?