So, do you remember the post I did recently on preparing for a party during the "
sweet spot
." As luck would have it, around that same time, a representative for Ball contacted me and asked if I would be interested in doing a product review of their new Heritage collection of blue Ball mason jars. My initial thought was "I have too much on my plate to add canning to the list." But I took one look at those jars and had to have them! They are a throw back to the vintage jars you sometimes see in antique stores.
Once I had the jars in hand, I did what any girl would do - I started planning a party! Any excuse right?! My husband's law firm invites law students to clerk during the summer months (just to get a feel for what it's like to practice law), and we love to have several over for dinner. So, after pulling together a guest list, I started working on some fun items to create a summertime table setting. I found a set of eight cobalt blue water and wine glasses on a trading site (you may have these sites in your area - it's like Craig's list, but on Facebook in your neighborhood) for $50.00. So, I nabbed them.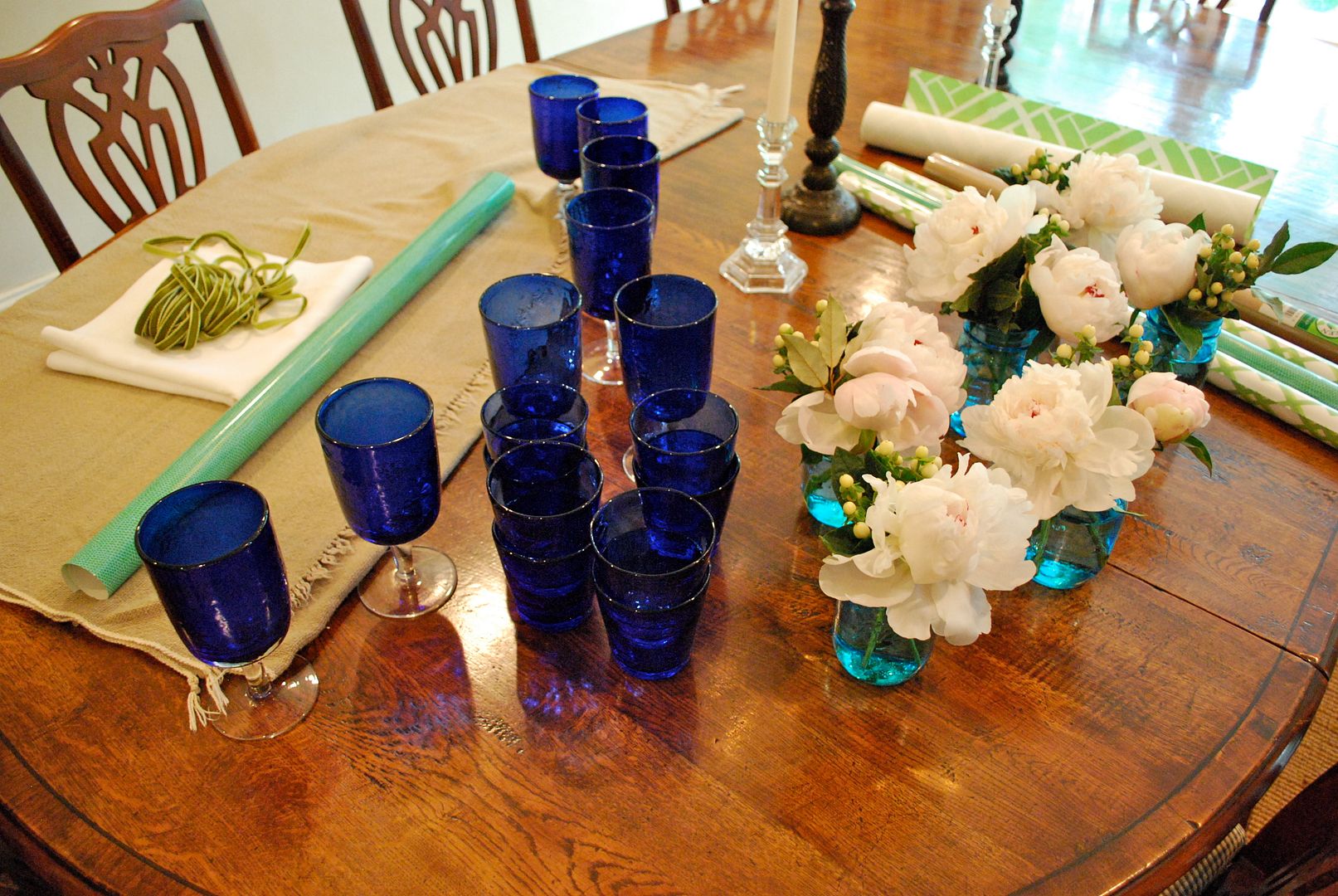 Then, I picked up some wrapping paper - this is a very fun, easy way to change the feel of your table.
I picked a teal/green snakeskin pattern for some contrast.
I got it locally at Smith's Variety (btw, it comes in tons of colors). I cut it in half with a decorator cutter to create a runner. Then, I dug through my stash of party supplies and found a wider burlap runner (just to layer under the paper) and some velvet ribbon. Based on what I had, I decided to contrast rustic elements like the mason jars and the worn linen tablecloth with formal (and a bit modern) elements like the cobalt blue glassware and the snake skin paper. Look, you need to use what you have.
As I was running errands this week, I ran in to pick up some limes and ginger beer for a very fun signature cocktail to start the party, and a beam of light came down (just kidding) in the flower department of Whole Foods on these . . .
Peonies are hands down my favorite flower on the planet. I still remember the first time I saw one - I was working in Atlanta (yes, I was grown!) and a secretary at my law firm came in with the biggest bouquet of them and plopped it down on her desk. She had cut them from her yard. For weeks, she would bring them in - just stunning.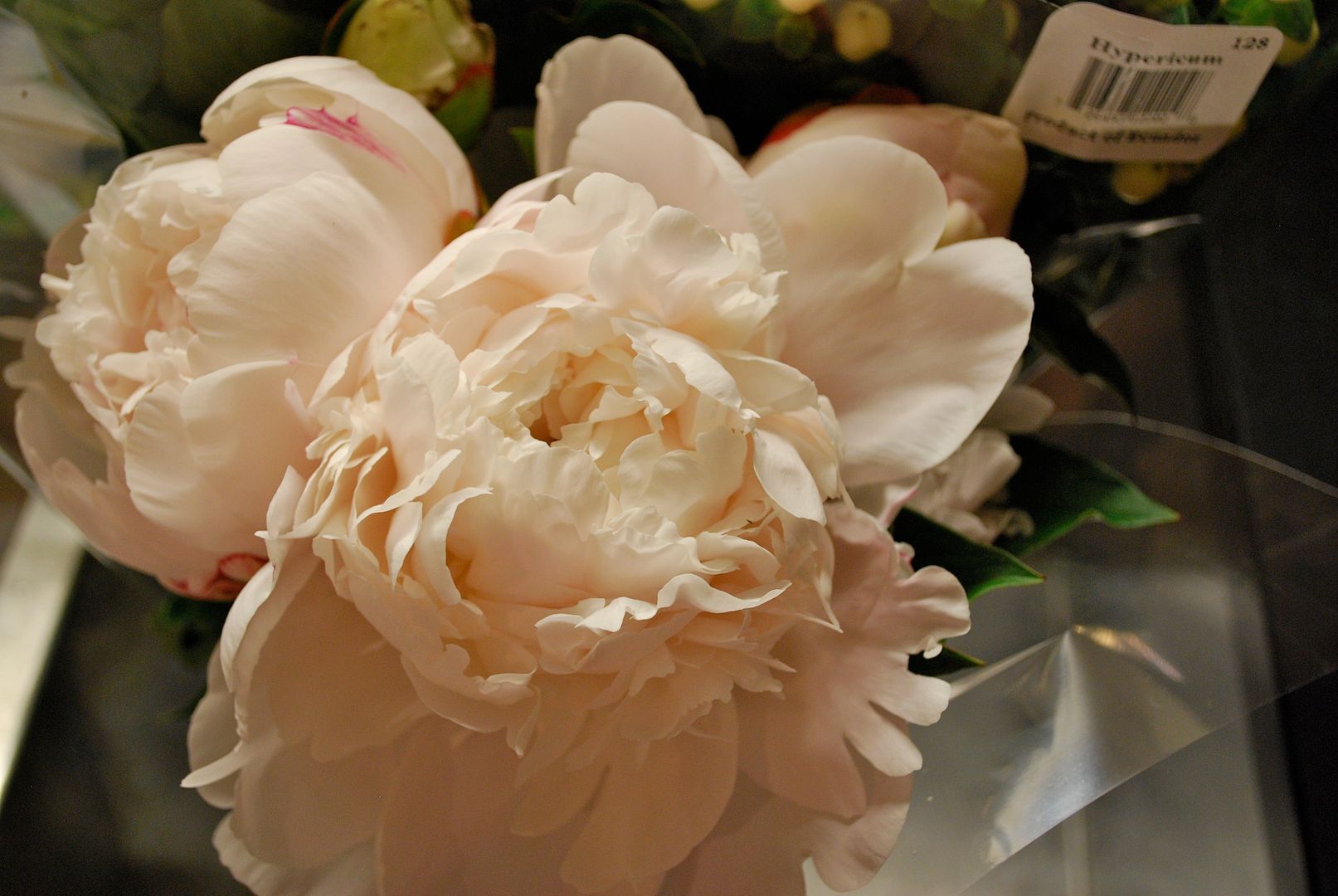 Peonies feel old fashion and sophisticated all at the same time. So, I knew they would be perfect for the
Ball jars
. If you are intimidated by creating a huge flower arrangement, consider doing lots of smaller arrangement down the center of your table. The repetition will give you the same impact as one larger arrangement and it's much easier to tackle. Also, if you choose a inexpensive container, like these mason jars, you can get that wow factor on a budget! For these arrangements, I added two peonies (cut fairly short), a creamy berry (not sure what it is but picked up at the grocery), and one stem of greenery cut from my yard to each jar. That's it!
As an aside, these jars have the vintage "Ball" logo on one side and on the other a history of the Ball jars! Very cool. Also, if you want more inspiring images of how to use mason jars in different ways, you must check out
Ball's Pinterest page
. Their page is chocked full of projects, flower arrangements, table settings, lighting and other clever DIY projects using mason jars! It's worth a look see.
So, now for a few details about the party. Here's the menu. . .
Asiago Breadsticks (from Savages)
Moscow Mules (signature cocktail)
Wood Grilled Chicken Skewers
Caprese' Pasta
(Linguini with fresh tomatoes, basil and parmesan cheese tossed in olive oil)
Grilled Asparagus
Fresh Bread
Lemon Souffle' with fresh whipped cream
My plan was to set up the cocktails in our living room for a fun change of pace, and to set up dinner outside in the garden. But, mother nature had other plans, so I opted for cocktails in the family room and dinner in the formal dining room. I've said this before, but I think it's interesting to mix things up for a party. If you have a room people tend to walk through and you want that to be a gathering spot, set up a bar in there and see what happens! Here's the Bar area.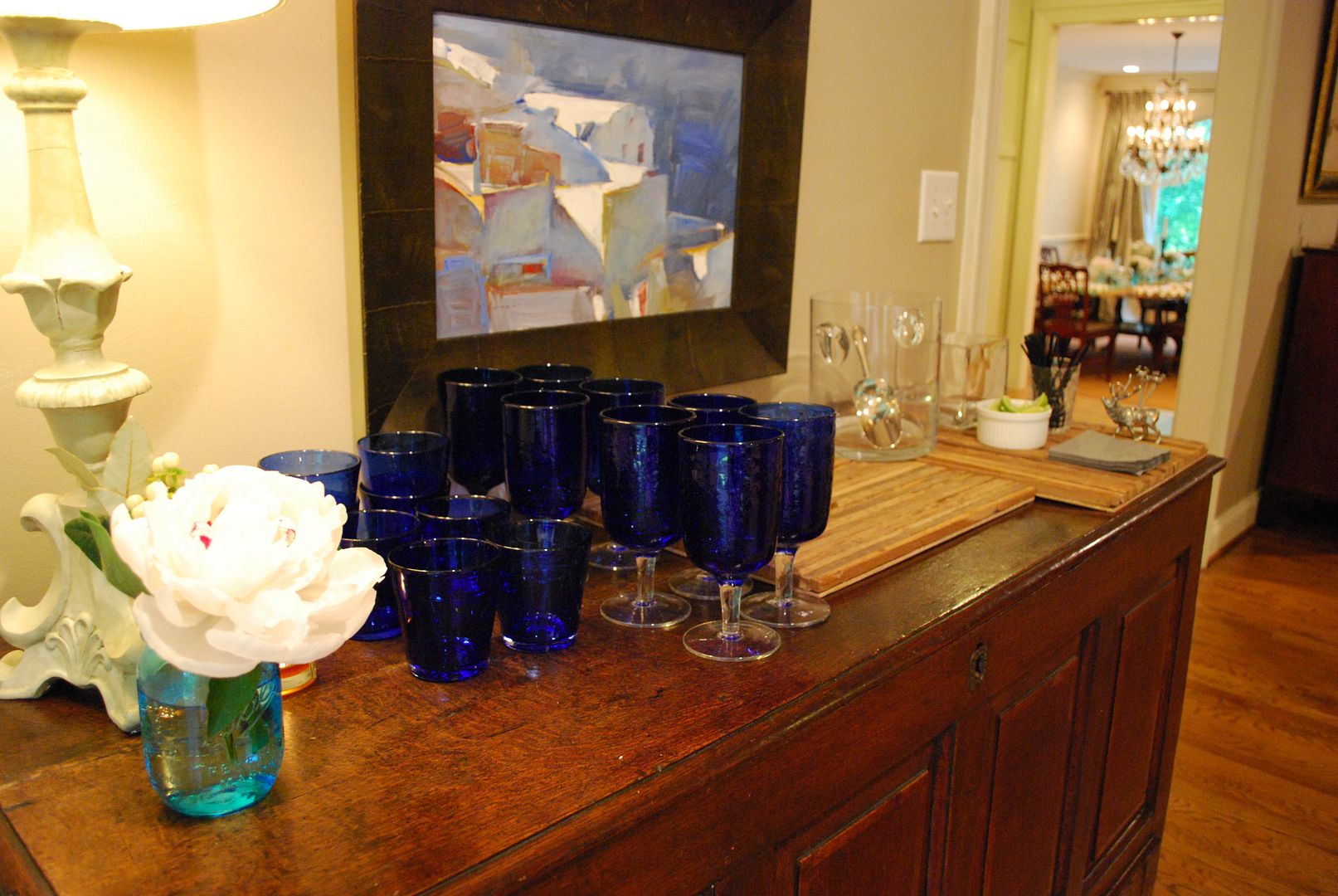 I picked of the driftwood placemats at the
Lamb's Ear
in Crestline. I was initially looking for a large tray, but after talking to those clever girls, I realized these placemats give you lots of options on how you can set up a bar. So, I was sold!
For the signature cocktails, I used this
recipe
and found this amazingly yummy ginger ale as the mixer! I thought the little bottles were so cute - but boy do they pack a ginger punch! Yum.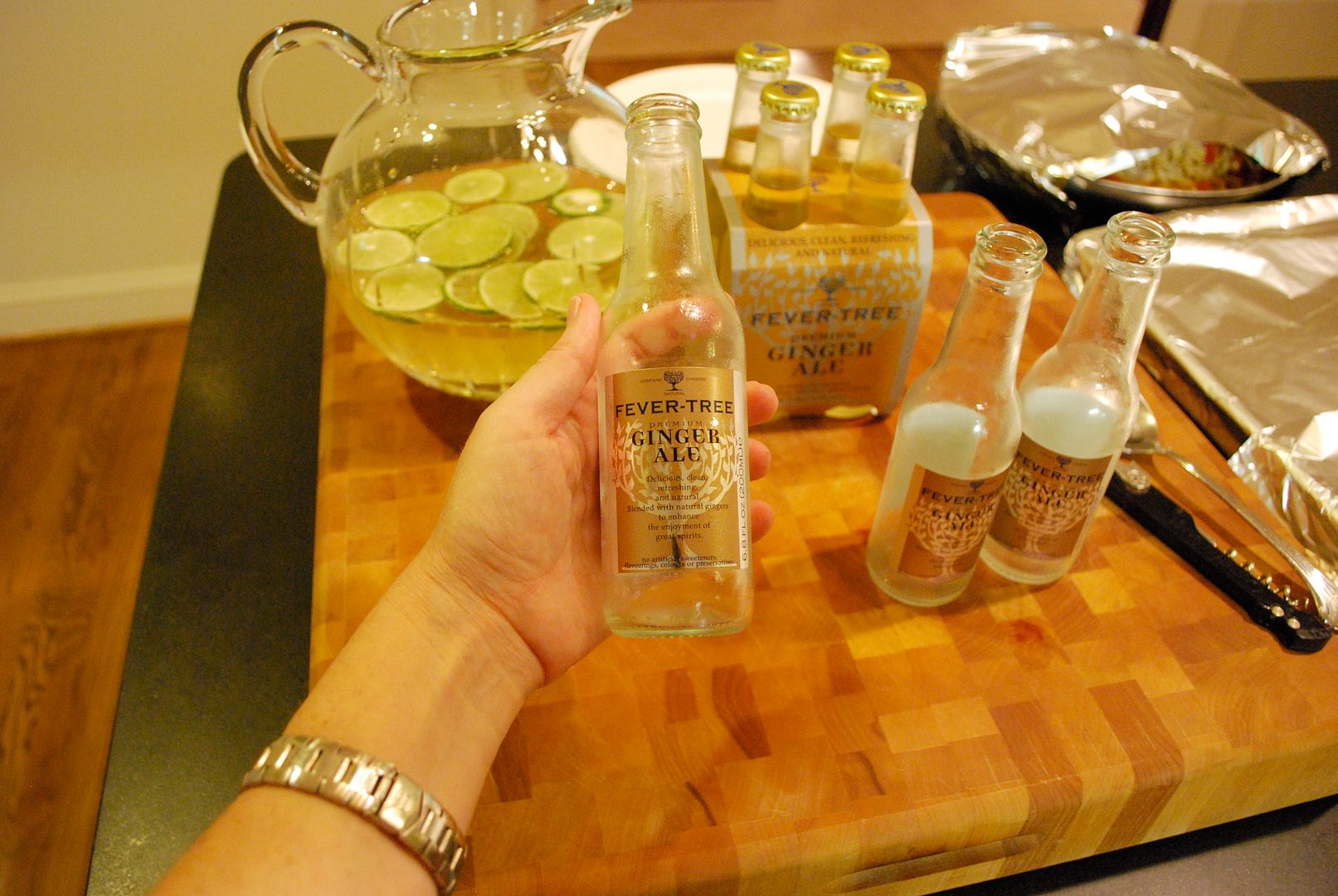 In addition to the Moscow Mules, I made a nonalcoholic Herbal Iced Tea. It's always a good idea to create a nonalcoholic specialty drink for those who are not indulging. Then, here's the final table setting . . . .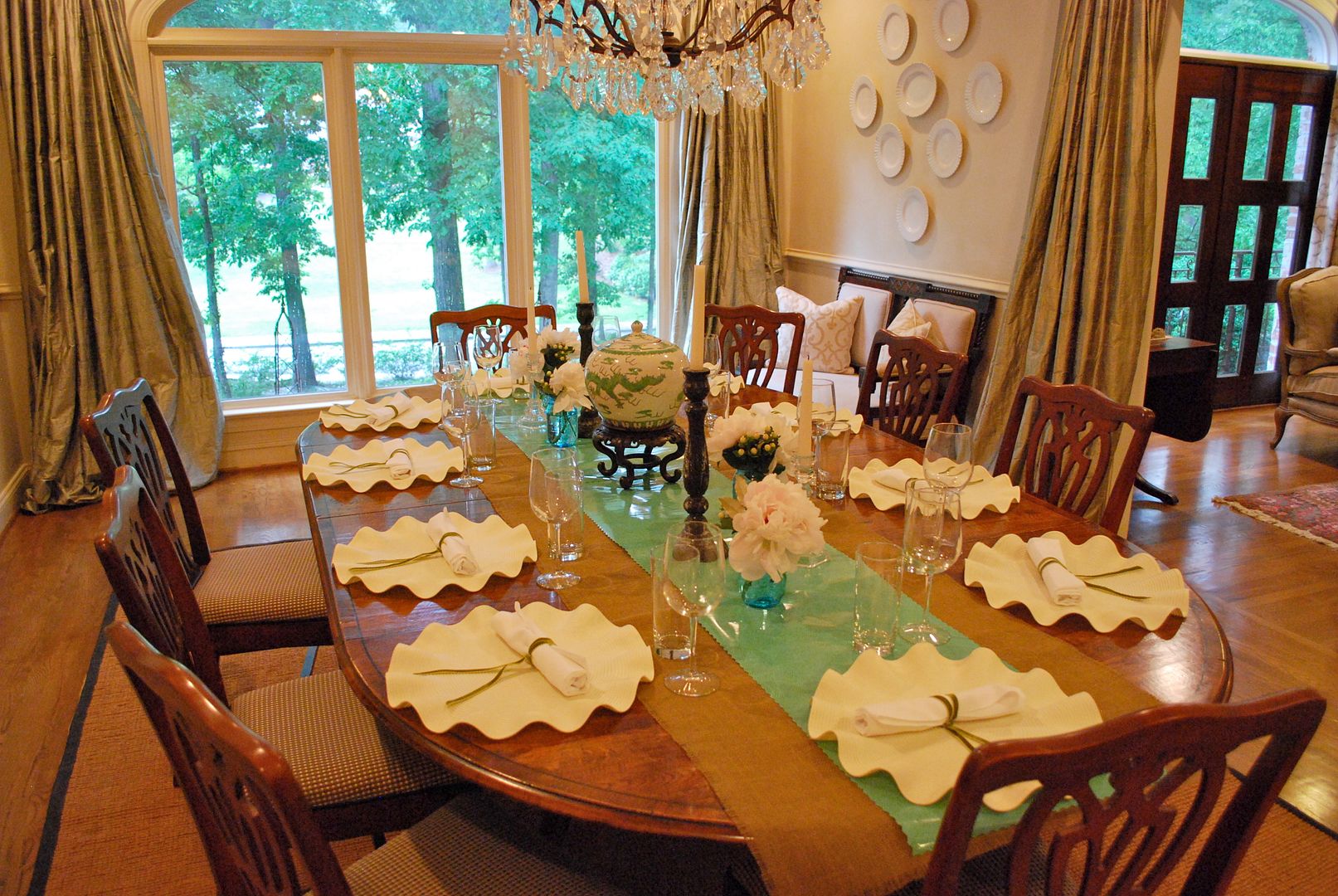 And a close up the flowers in the Ball jars.
One more close up - earlier in the day, I had rolled my silverware in the napkins (since I was assuming we would be outside for dinner), and decided to keep it for the dining room.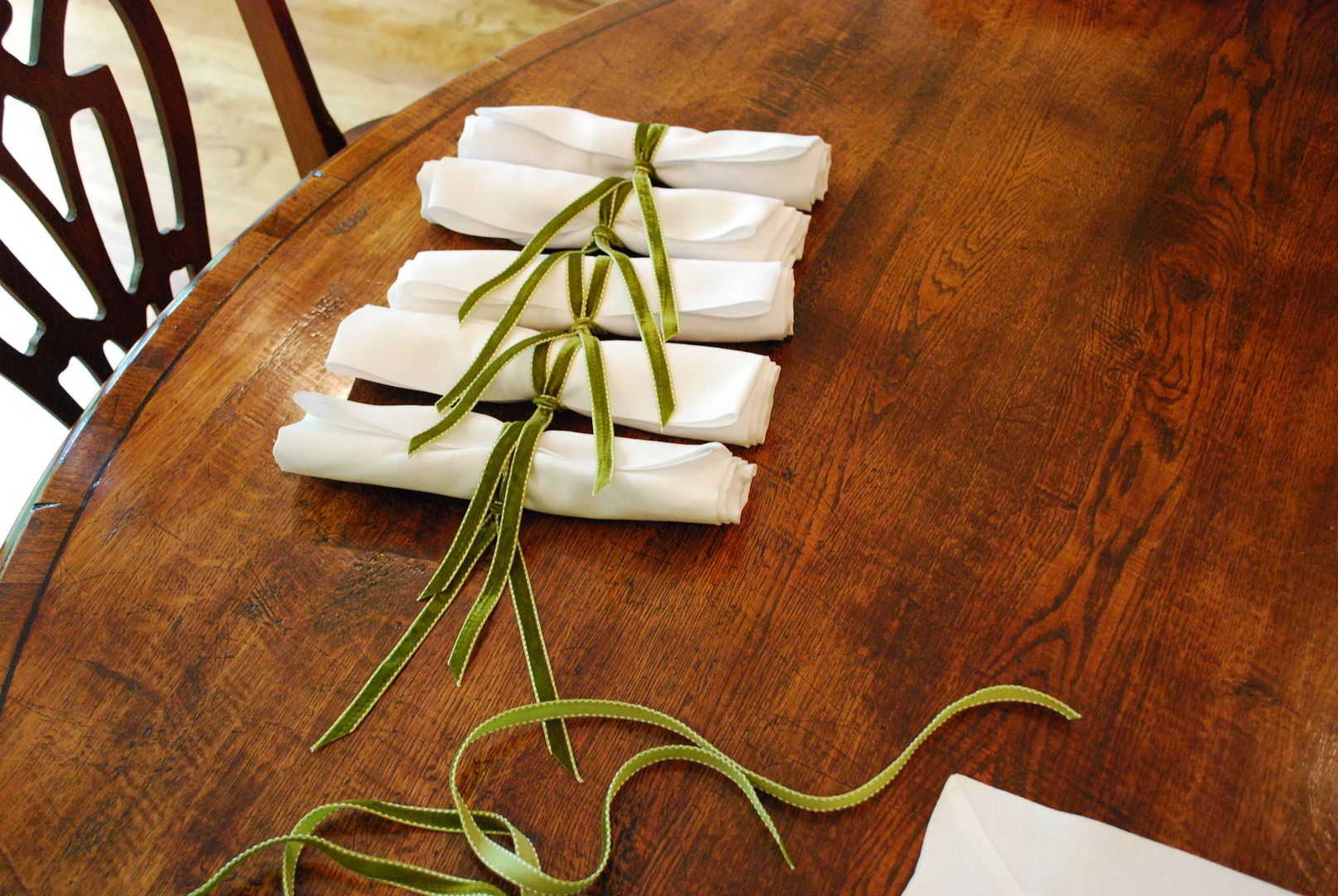 I think it lends to a more casual feel of dining. I just took some velvet ribbon from a previous project and looped it through for one more pop of color. Sorry this picture is so dark, it was overcast the entire day.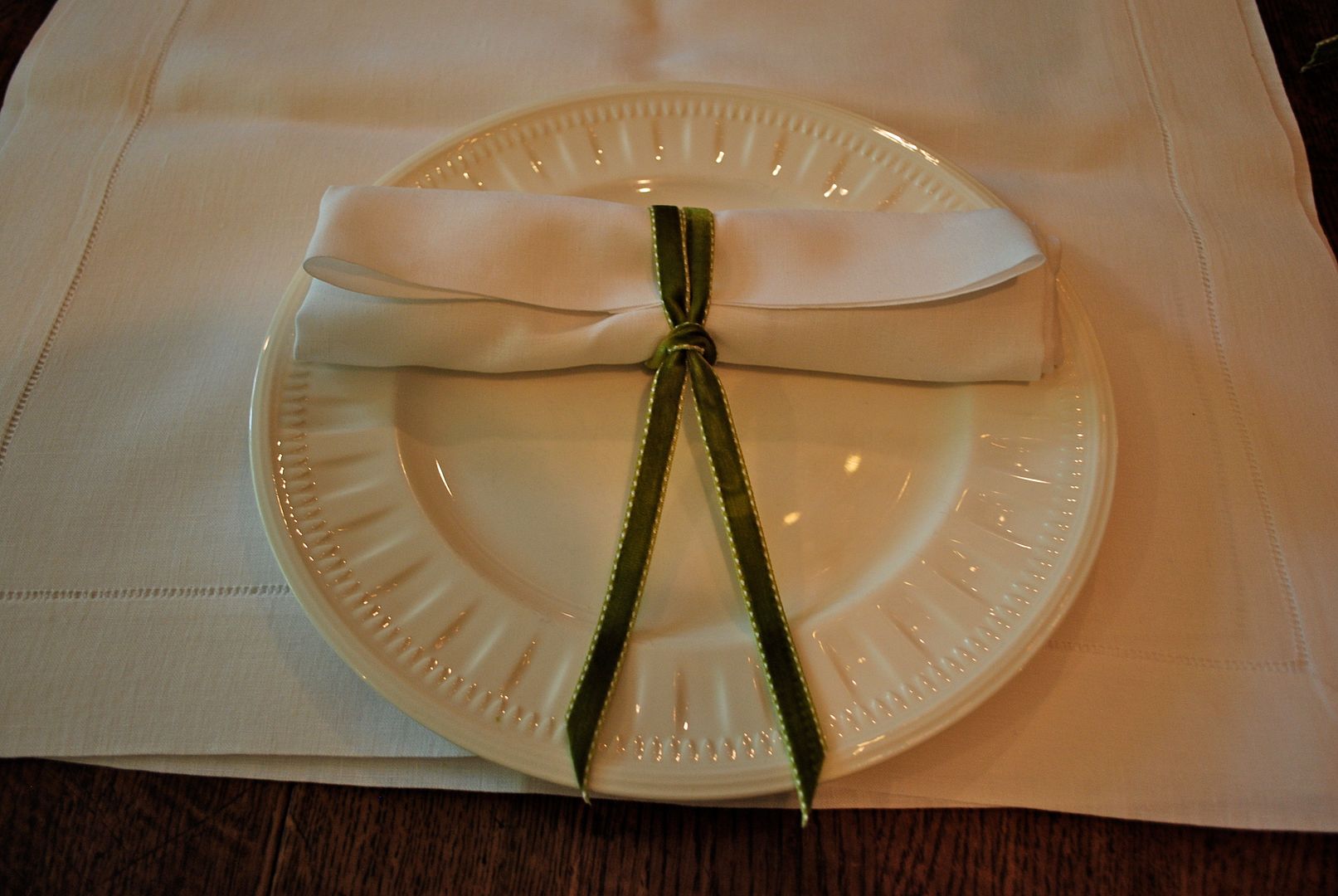 And, just for fun, a few attendees . . .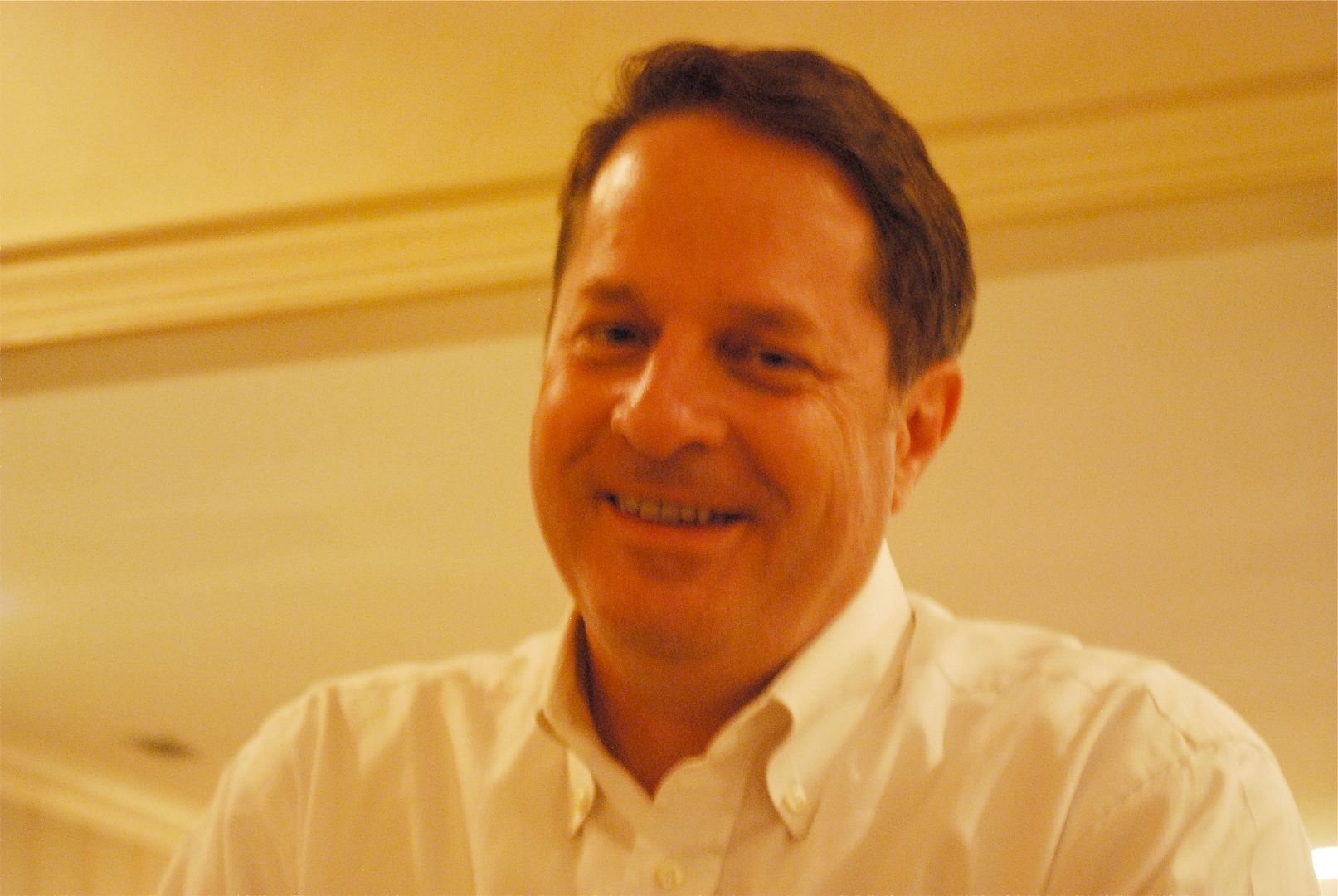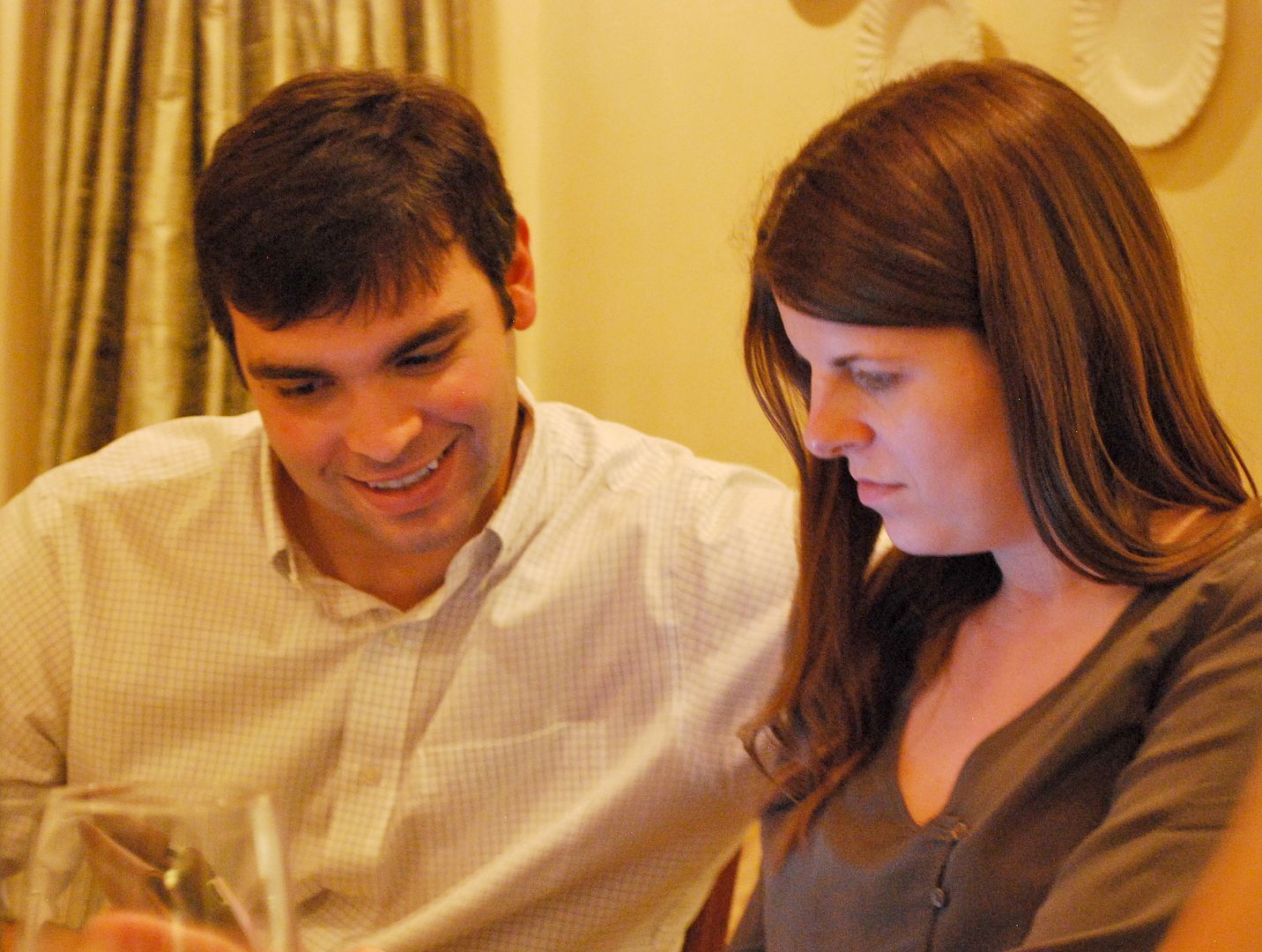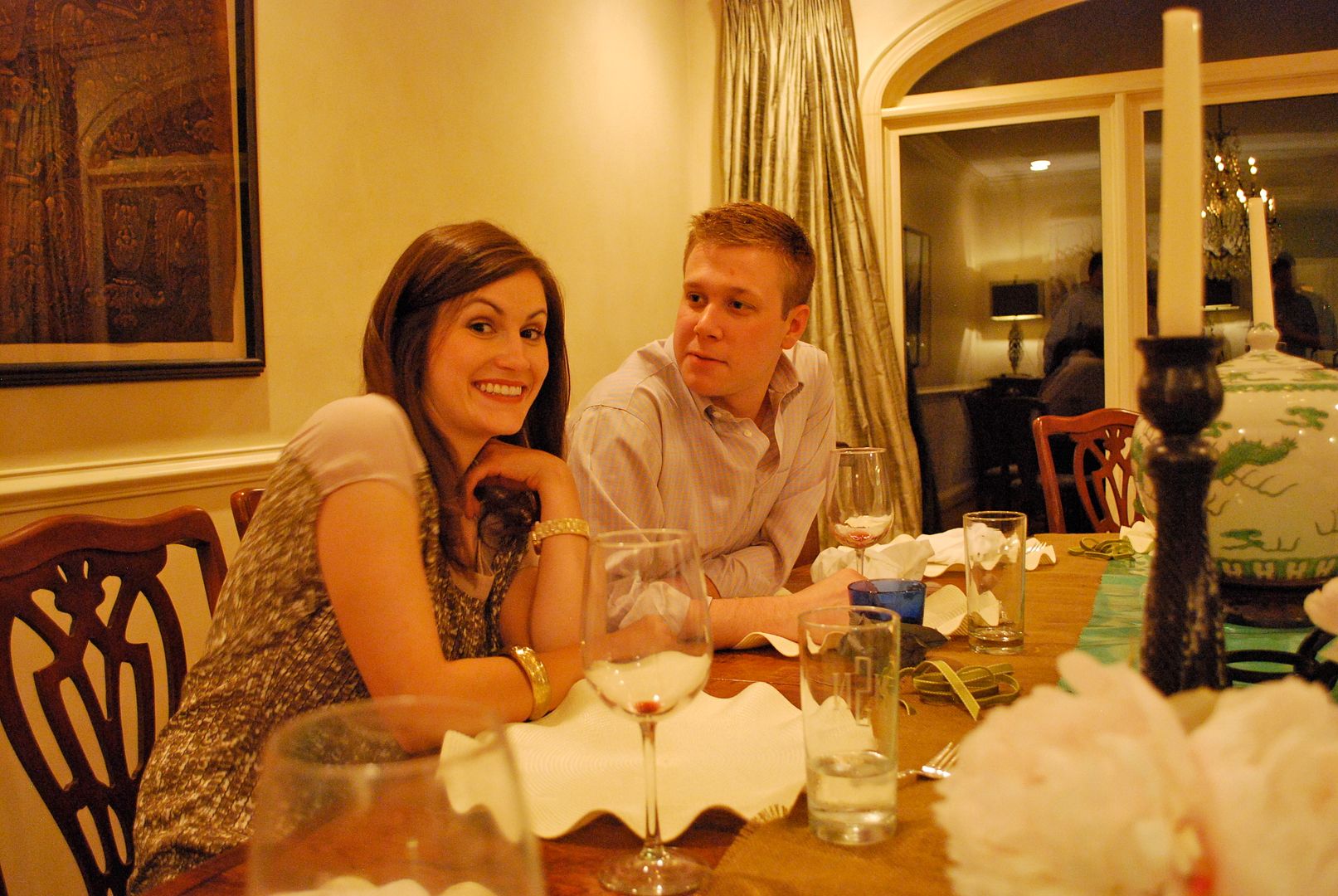 It was a fun evening. I hope you enjoyed your weekend too! M.
PS: the entire meal was catered by a dear friend of mine who is a professional caterer in town. She has catered huge events with hundreds of people as well as smaller more intimate dinner parties like mine. So, if you live in the Birmingham area and would like her information, let me know! I would love to share it with you.