Since you've been so patient with my MIA on the blog this summer, I thought a giveaway was in order! Shabby Apple has been a sponsor of Musings for quiet a while - I simply love their offerings. Most of you are familiar with this amazing company. But for those who are not, Shabby Apple is an incredible online resource for unique women's fashion. Their
vintage clothing
strikes this wonderful mix of hip and classic style. For this giveaway, Shabby Apple ask me to select the dress! With all their amazing styles, I don't mind telling you it was not an easy task. They have so many to choose from, it's insane. But I managed. :)
As with my approach to interior design, I always try to find great basics to build upon with accessories. So, here's my pick for the giveaway. This is the perfect dress to take you from late summer all the way into the cooler months and then back into Spring.
It is a classic shape which will never go out of style. Also, I think it will flatter all figure types.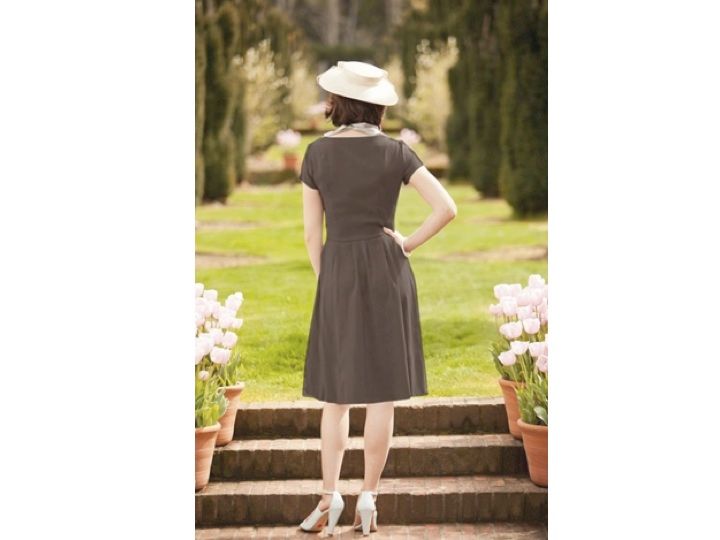 OK, so now for some fun. As you can see in the above pictures, this cute dress is styled for summer and looks amazing. But let's fast forward a few months. Look how great it could look styled for early Fall. You know, when it's still hot outside, but the leaves are beginning to change colors and you want a more seasonal look.
The accessories shown here are all from Shabby Apple.
So, now that I've got you thinking. Let's talk about what it's going to take to win this "perfect" dress.
1. To be eligible you MUST click over to www.shabbyapple.com, look around, then pick your favorite items

AND come back and leave a comment about it!
Be sure to include a separate comment for each extra entry (up to 4 entries) including contact information (so I can contact you when you win)! Winner will be selected by random.org.
Deadline for entering is next Friday, July 12th at 5:00 PM Central.

Good Luck and Happy 4th! M.