For the past couple of years, I've taken all the red out of my Christmas decor. (As seen
here
and
here
.) Well, this year, I'm jumping back into color in a big way with a mix of traditional red and green along with lots of jewel tones. They are big big big this year. So, here's the plan for my dining room table. All these fun elements coupled with fresh greenery and satin ribbon in emerald green and turquoise will pull it all together.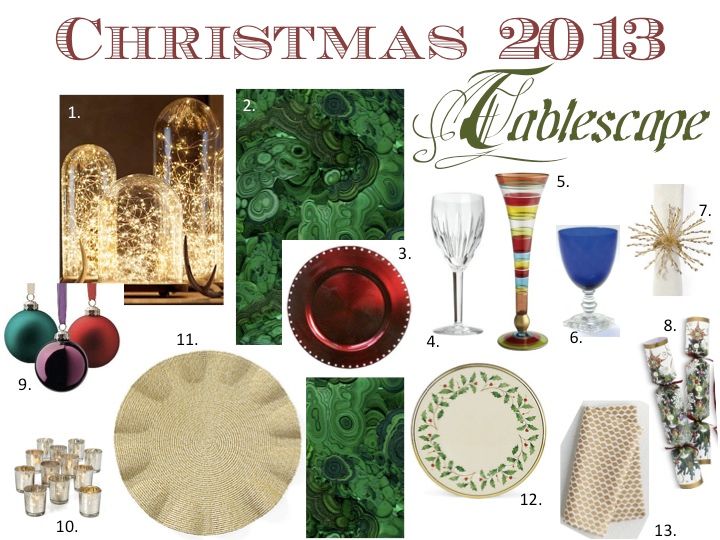 (click on the corresponding number to get one of your very own!)
I have tried to use a lot of what I already have - like my very formal traditional holiday pattern by lenox as well as the cloches I purchased last Christmas and the cobalt blue glass from this summer. By purchasing just a few new pieces, my entire table is going to be transformed into a huge punch of color. My goal was to dress down the more formal pieces and dress up the more casual pieces for a fun chic look. The other great thing about some of these items (like the malachite custom table runners) - they are not really considered "Christmas" so I'll be able to reuse them for tablescapes throughout the rest of the year. Stay tuned for the pictures once I have everything in place.

PS: I can hear some of you now, "We've not even had Thanksgiving yet!" (which, honestly, sounds like my very sweet husband :) when I start asking about putting our tree up every year). The truth is I am not hosting Thanksgiving. I get to enjoy the labor of others who are busy working on their Thanksgiving table and menu. Buuuttt, I am hosting a couple of things for Christmas. So, I'm getting my ducks in a row now. Remember, Rome wasn't built in day, people. It takes some planning. So, I'm simply sharing the process with you. Enjoy your Monday! M.