If you remember back in the Fall, I mentioned I was working on my own office area. I confessed to you then that I did not have a dedicated office space for my business. When I first began my design business, this was not a problem. But as my business has grown, I realized the kitchen island was not working for me! So, I spent some time thinking about where I would put this office area.
Unlike many homes, with a dedicated office space like the ideal one pictured below, I had to think about where to include an office area in mine. My goal was for the office space to logically flow with the rest of our home and give me a practical place to work.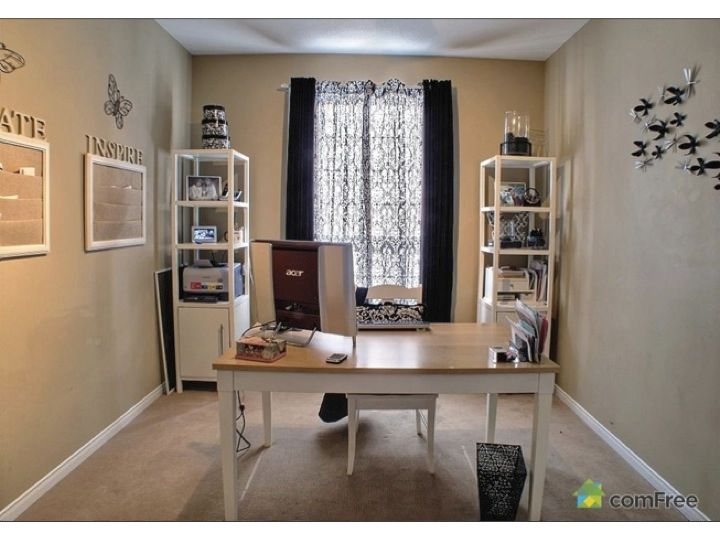 Believe it or not, I ultimately decided to add the office space right in the middle of our family room! It's my favorite room in the house. I thought I would be more likely to sit at my desk if it were in a room I enjoyed being in on a daily basis. Also, because of my work habits (I'm fairly organized) I felt I could keep the area neat and pull it off.
So, here is what I did to make this happen. The image below is where we started - a couple of before images of our family room.
I loved the tete-a-tete I created with my winged back chairs, and was sad to see it go. Maybe at some point I will bring it back; but for now the office area was a greater priority. Remember, just because you love a certain layout for a space does not mean you won't love a different layout for the same area. It's just different and the great thing about moving furniture is you can always move it back! No harm no foul. So, I moved the winged back chairs to the main seating area, and the blanket chest on the back wall was moved to my foyer.

Here's the after with the larger seating area centered around our fireplace and TV. I ended up placing the desk behind my sofa. I have a great vantage point through the french doors to the right looking out into our backyard.

I also managed to create this reading nook with a new chaise lounge. I pulled the faux fur throw in from our guest bedroom. With the chilly temps, we seem to be fighting over this coveted spot (even the dog loves it)! I had no idea how popular this spot would be for my entire family.

The chaise is the only new piece I purchased for this redesign. I pulled the long table in from my foyer to create my desk area (see below for where it used to be). We purchased this table several years ago on a trip to Scott's antique market in Atlanta, and it was the perfect scale for the area behind my sofa. It feels a bit like a sofa table, but still substantial enough for a desk area. Then, I moved the lamps to my dining room and pulled in an iron pair that were originally on my buffet.

In the foyer, I pulled in the blanket chest from the family room and styled it with cloches for the Fall season. It will look completely different the next time you see it - I'm working on Christmas decorations now!


I've been using the space for the last couple of months and I love it! I'm feeling very productive and more focused these days. Do you need a home office area? I'm proof you can put one in almost any room! M.
This post contains sponsored content.