Sorry my post is a bit late this week, we were enjoying the long weekend with no school yesterday. It was great, but it makes for a short week with trying to squeeze five days of work into four! Since Christmas, I've been doing a bit of cleaning and freshening up. Every year, when the Christmas decorations come down, the house always seems a bit drab. I think greenery adds so much to a space; and when it goes away, I really miss it. Also, the bleak winter blues tend to set in with one cold wet day after another. So, to combat all this, I decided to put together a simple Sunday lunch for some friends. I love entertaining at home and a gathering gives me something fun to look forward to during the week. Nothing like inviting friends over to force you to freshen up your house.
For my entry way, I decided to layer a silver tray with a white fluted container full of cyclamen which are in season right now.
I've never had luck with keeping these alive, but I enjoy them for a month or two this time of year. Which leads me to another point, there is no reason to nurse a half dead house plant for nine months hoping it will look good again.
I'm giving you permission to toss that dead plant and get something fresh that will make you smile when you come home. This is one of the least expensive ways to freshen up your spaces!
So for my lunch, I decided to keep the menu simple. The food does not have to be fancy, just good. So, focus on recipes that will accomplish this when thinking about a lunch party.
Chicken Chili
Lettuce Wedges with Pancetta
Corn Muffins
Rustic Honey Crisp Apple Tart with Vanilla Ice Cream
I served the chili in mugs rather than a bowl. This is a great trick I learned from one of my favorite Stylist on the planet,
Missie Crawford
.
When you use a mug for soup, there's plenty of room on your plate for side items and it also keeps the lunch feeling casual and relaxed. I made a
chicken chili
, and it was delicious and easy (cooked it the day before in the slow cooker and just reheated it while we were at church). Then, I gathered some fun toppings - shredded cheese, fresh avocado, sour cream and blue corn chips. This gives your guests the ability to make the soup their own, and it's fun to see who likes "the works."
For my side salad, I really wanted something to contrast the chili. So, I decided to go with a basic wedge salad with blue cheese dressing. I used this recipe for the
blue cheese dressing
. Then, to give the salad even more interest, I stopped by one of my new favorite shops in Mountain Brook village called Oli.O. This is a olive oil and balsamic vinegar specialty store, and it's owned by Hutton Fant.
I finally got to meet Hutton and asked her for some help pairing the perfect oil and vinegar with my salad. She came up with a wonderful combination to really make my salad unique. Olive oils are very similar to wines in that they have lots of complex flavors and dimensions. Selecting the perfect pairing with other foods is a true art, and Hutton knows her stuff! For my salad, she suggested a drizzle of HojiBlanca olive oil and a Wild Blueberry infused balsamic vinegar over the entire salad as a finish. The combination with the blue cheese dressing was wonderful!
You really have to experience this store. They offer bits of bread, and you can taste everything. Also, Hutton mentioned they are open to hosting tasting parties for small groups paired with wines. Talk about a fun supper club outing! For more information you can contact Hutton by
clicking here
.
For dessert, I made this apple tart - a recipe from one of the best cooks I've ever met.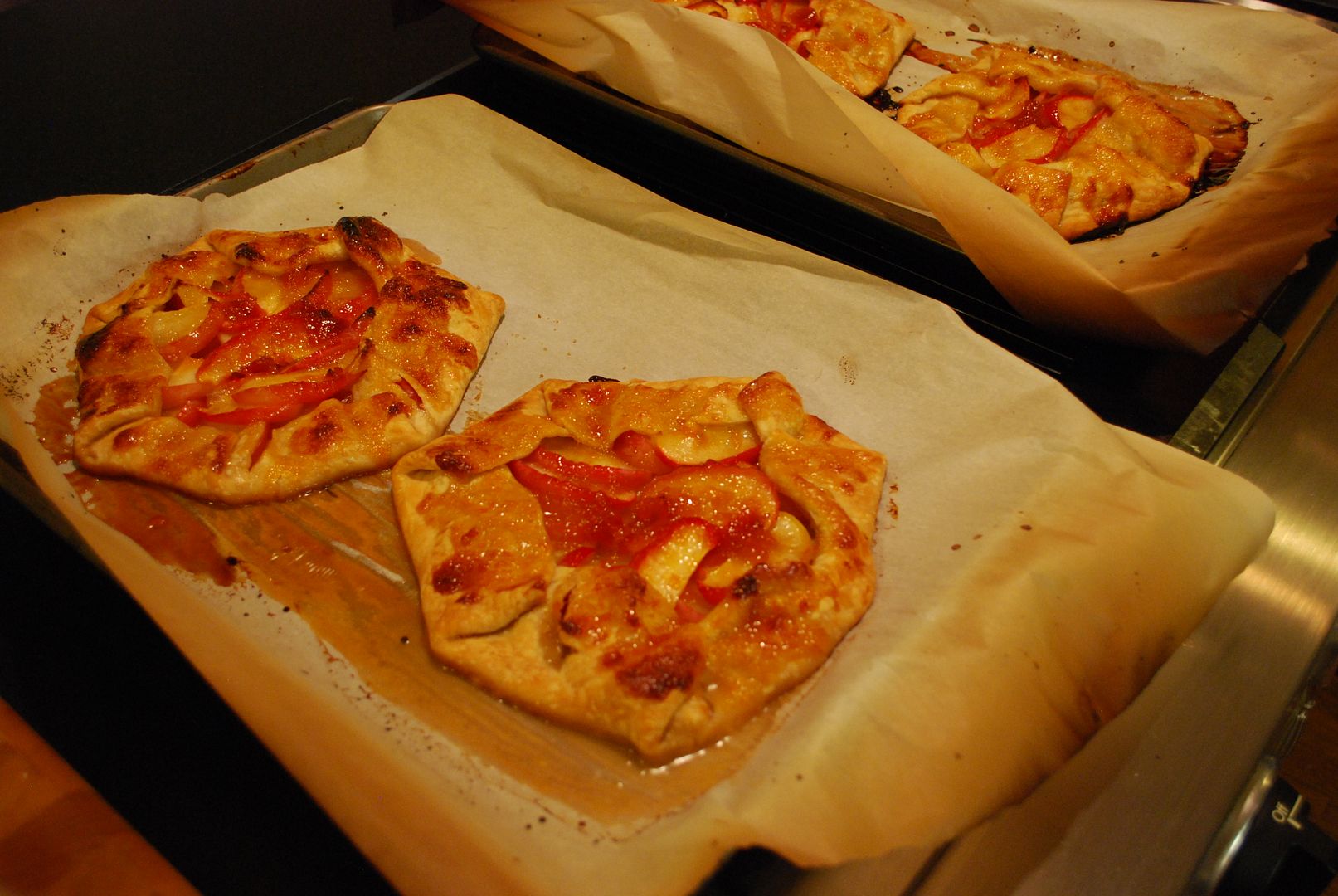 Years ago, I watched her pull it together with simple ingredients from her pantry and frig, and never forgot it! It's always a hit. I made these the day before and heated them during out lunch and served them with Blue Bell Homemade Vanilla Ice Cream.
For my table setting, I decided to keep the agate runner in place (from the holidays) and added crisp pops white with my napkins and the orchids for a fresh feel.
Got the orchids on a recent trip to IKEA (their orchids are so inexpensive!). I got some other fun items at IKEA which I plan to share with you in the next few months - very fun project. Wait and see!
I also added some angel vines which gives some height to the table. I just love the containers. These are actually hand made wine glasses from this cute shop called
Patina's
out of Mississippi.
They were a fun gift from my sister in law this year, and I love the casual feeling they add to the table as well. If you decide to use pottery as a container for plants, be sure and place them in a plastic baggie to protect the porous surfaces.