It's time to show you some progress on our front yard! Finally. One thing I love about outdoor projects, they are not as disruptive as a kitchen remodel; and provided the weather is good, they move quickly! At the end of each day you see lots of progress. This new routine we've fallen into with this project as been fun. My favorite time of the day is when my husband comes home from work, and we walk around in the yard checking out the progress.
The first step in implementing this plan? Cutting some of the trees. I know this makes lots of people sad, but it was necessary. There were also several trees in our front yard that were dead but still standing. In fact, one super large one, very near our house was an accident waiting to happen. The tree guy said he was surprised it was still standing! Here are the "before" and "in progress" images for this stage of the project.
When I look at this image I think about all the leaves we have dealt with for the past 10 years. Notice you can not see our front door (and this is in the dead of winter before all the leaves are completely blocking our curb appeal).
Make way for some grass! And our front doors.
We really wanted to keep the large tree to the left in this image but it was dead.
True confessions here - when they finished cutting the trees I was a bit freaked out. You get used to seeing things a certain way and this really made our house feel exposed. But as with redesigns, it has to get ugly before it can get pretty. So, I knew we were in that stage of the process. But it was still hard to get my mind around it. Having the design plan helped to calm my nerves.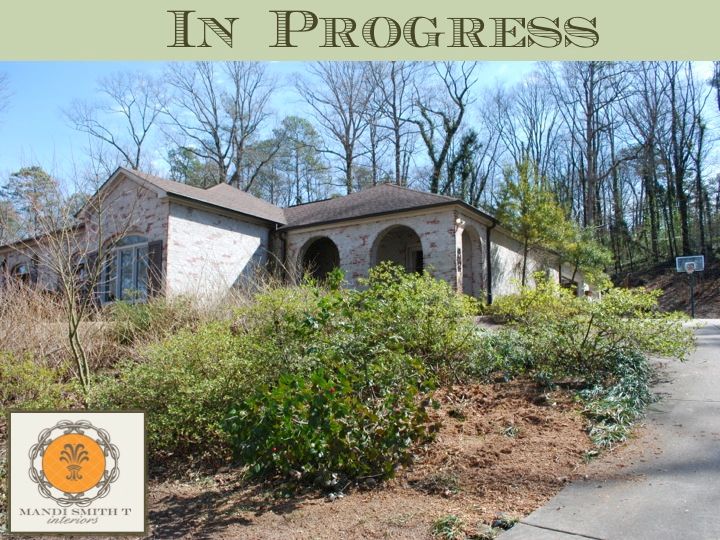 These images were taken just outside our front doors looking down to the street.
Now you can see the gorgeous houses across the street from us. And they can see us - my neighbor said so! But, patience. It will not stay this way for long. We have plant material coming in to give us some privacy from the street while still allowing some nice curb appeal for our house.
I am signing off for the week. My kiddos are on break, and I plan to take the rest of the week to enjoy having them home! M.