Interior Design
This article was written by Amandine Dowle.
Feedback from the Milan Design Week 2014
The 2014 edition of Milan Design Week ended two weeks ago bringing designers, photographers, architects, art lovers and journalists from all over the world. From the Salone Internazionale del mobile at Milan's Fiera to museums, galleries, and other important location in Milan, the all city was full of interior design products to discover.
-Ventura/Lambrate: This area of Milan was presenting different artists most of them European. I have particularly liked the exhibition "Clique: Smart Matters". The inaugural collection featured six furniture and accessory designs made of marble, valchromat, and solid wood, both original and practical, each with their own "electric heart" as ECHO, a bookcase with Bluetooth speakers and Heatty a fan heater both designed by Claudio Larcher.
- Museo Bagatti Valsecchi: The iconic Rossana Orlandi showcased a beautiful exhibition called "Untold" in the museum Bagatti Valsecchi, located via Gesù.
Lusters are one of my favorite pieces of the museum. Called "Brilli Mod" and design by the Italian Jacopo Foggini, they are made with extruded polycarbonate, which have the appearance of glass.
The Peacock chair by Eiri Ota and Irene Gardpoit Chan
presented at the entrance of the museum.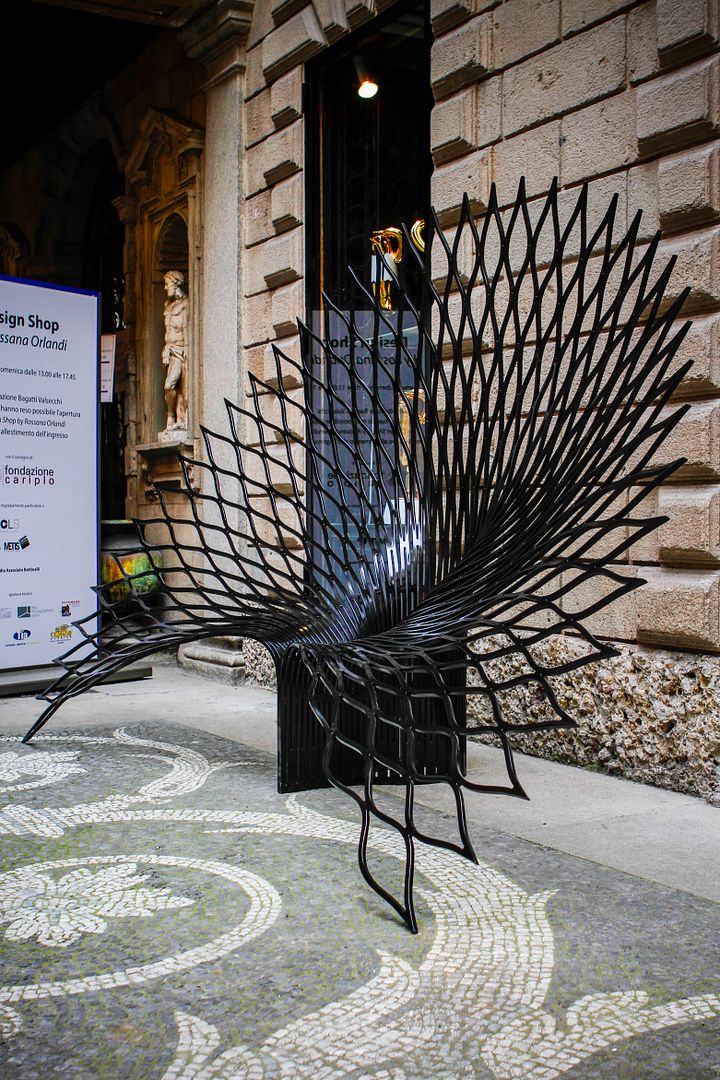 Spazio Rossana Orlanda:
Rossana Orlanda opened few years ago her own art space to give the possibility to worldwide artists to expose their work: one restaurant, three floors and a nice garden. I liked The Seed Cloud Installation designed by Joanna Bibby, Harriet Maxwell Macdonald and Solenne de la Fourchardière. The lighting concept balances beauty with functionality. It's a mass of organic cast bronze buds house solid glass drop, illuminated by LED. Technically advanced, marrying both modern and ancient processes.
Then different events were organizing as Romeo & Juliet 2.0, sponsored by Fontanot
spiral staircase
, where Marco Goffi recreated the Juliet's Home;
Or even Wallpaper magazine organized their Handmade exhibition initiated and coordinated by L'ECLETTICO where you could find young artist as Alexander Mulligan and his audio System "EDSM". Comprised of individual, curved units that stack upon each other, the sculptural audio totem delivers sounds in 360 degrees, in addition to cutting a strong figure.
To conclude the Milan Design Week 2014 was about technology, simplicity of lines and shapes, and smart design. With thousands of new products launched, this year was another great success gathering international brands and designers.