As the end of school quickly approaches (13 days left! yikes!), my goal has been to finish up several projects by the end of May. I'm going to be taking the months of June and July off to spend time with my kiddos. Last year, I made a conscience decision to do this, and it worked out great. With the time I have left with them at home seemingly melting away, I don't want to wake up when they're in college and wonder what happened! So, if you are waiting on a design plan from me, it's coming!
In the meantime, I wanted to show you the results of a redesign I did earlier this week. As many of you know, a redesign is when a client calls me to come and help them rethink the layout of their spaces. When you live in a space, it tends to be more difficult to think about the furniture in a different arrangement (or even a different room). This client has a lovely home and beautiful furnishings. She did not want to purchase anything new; rather, she just wanted the space to feel fresh. So a couple of weeks ago we completed a redesign for her family room. We moved a very large furniture piece from this wall (in the below image) to the wall on the left (sorry I don't have a picture of it) to balance her fireplace (which is on the wall to the right). This left a large bare wall in the space. This alone can paralyze some homeowners from rearranging their furnishings! The key is to walk around and shop your own furnishings. I spotted a fabulous grouping of 9 framed quilt squares in the kitchen on a smaller wall. My client mentioned having more of these, so I recommend she have a few additional ones framed for a larger grouping on this wall.
Once the additional pieces were framed, we came back and rehung them. Talk about a statement wall.
Here's a close up of one of the quilt squares. Love how much texture it adds to the space!
One more thing - the door to the left leads to the front foyer, so having something in this spot with a low profile is perfect for giving you an open airy feel. Also, when you hang a grouping low on the wall, it doesn't feel like you need a piece of furniture under it. This is a great tip when you are not ready to buy a large casement piece. Simply hang your artwork lower on the wall.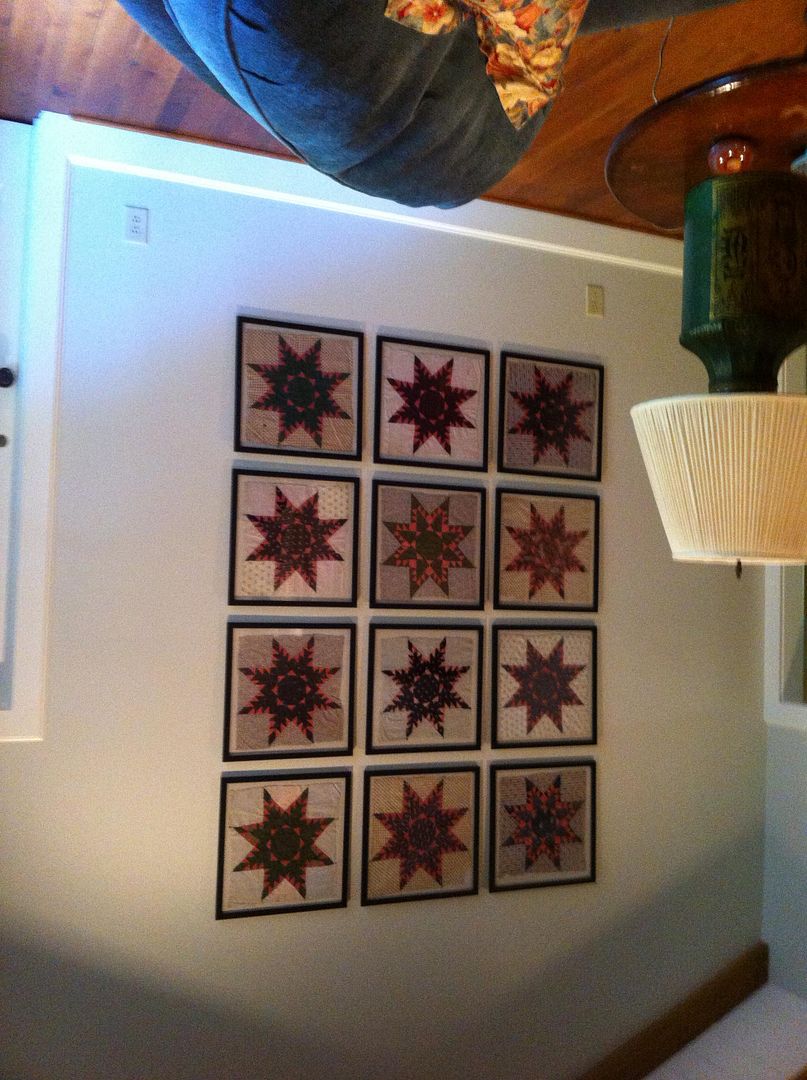 I have to say redesigns are my favorite part of this job. There is nothing like transforming a client's home simply by taking what a homeowner already has in their space, changing the furniture layout, rehanging the artwork and styling the room with accessories. In just a few hours a room can be transformed into something that feels completely different. Every time we complete one of these, I say the same thing, "I feel like I've been shopping." Redesigns give me the same thrill as a day of shopping with friends! No idea why, but it makes me totally happy.
Hope you have a marvelous day! M.