Wow. I really can't believe how quickly our Summer ended. It was such a special summer for me. With my
Mom's full recovery
from breast cancer and my kids getting older (my son will be driving in February!), we started our summer in a completely different place this year. It was really one of those sweet moments when you realize how thankful you need to be for your life. We laughed a lot, ate some yummy summer bounty (learned a few new recipes), hosted a few parties, traveled to some special places, celebrated birthdays, read some very entertaining summer books (i.e.,
What Alice Forgot
), toured a few neat places, rode roller coasters every chance we got, visited with lots of family and friends, stayed up late and slept in until Noon on several days. Simply put, we had a blast! Here's a tiny glimpse of our summer (if you're an
Instagram
follower, you've seen a lot of these!)
In addition to all this, I took some much needed time to get organized for work. Over the past couple of years, my interior design work has almost tripled. I can't begin to tell you how blessed I feel about this! The design work brings me more joy than I can express - I'm truly grateful for all the referrals and inquiries. With all the additional design work, however, it leaves less time for blogging. So, my goal is to share more meaningful posts with you and use
Instagram
and
Pinterest
for day to day images on projects and inspiration. If you've not jumped into these other social platforms, I would encourage you to try them out. There is a world of FREE interior design inspiration out there just waiting to be accessed by you! Come join me!
With that said, you may find my posts are more sporadic than in the past. Rather than visiting my blog and not finding any new content, you may want to subscribe to my blog by clicking on the "subscribe" button at the top of my page and entering your email address. This will allow you to receive an email notifying you any time I've published a new post on the blog. Here's an easy way to do this. . .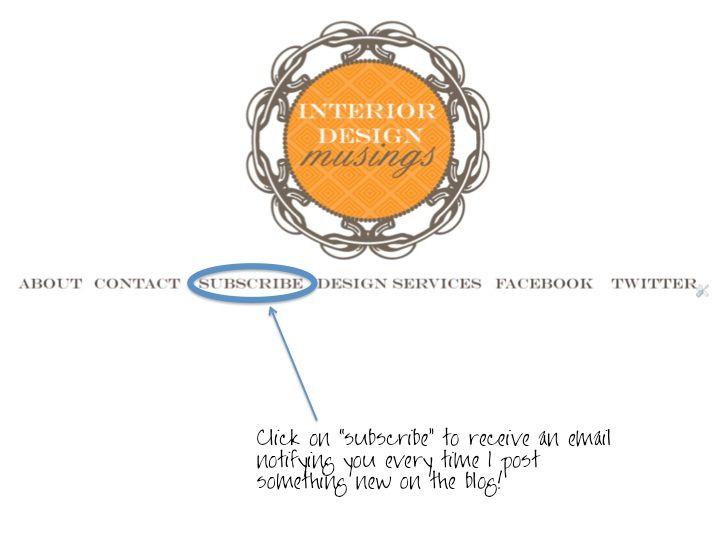 It's going to be a great year! I hope you will continue to join my on the adventure! M.