Are you craving more living space and not sure how to get it? Well, the basement is a great place to start. If you've not thought about reclaiming that space, now's the time to consider it. It's one of the cheapest ways to gain square footage since this space already exists in most homes. You just have to make it livable.
Here are some layouts I completed for a growing family who wanted more living spaces for their family. When I develop furniture layout plans, I like to give my clients a couple of options on layouts so they can really think about how they want to live in the space.
In the first layout, I included a pool table. You need a proximately four feet of wall clearance for a comfortable game of pool (reminds me of an episode of Seinfeld when they put the pool table in a tiny bedroom). So, in order to get this spacing, the client will need a seven foot pool table (as opposed to the standard eight foot table).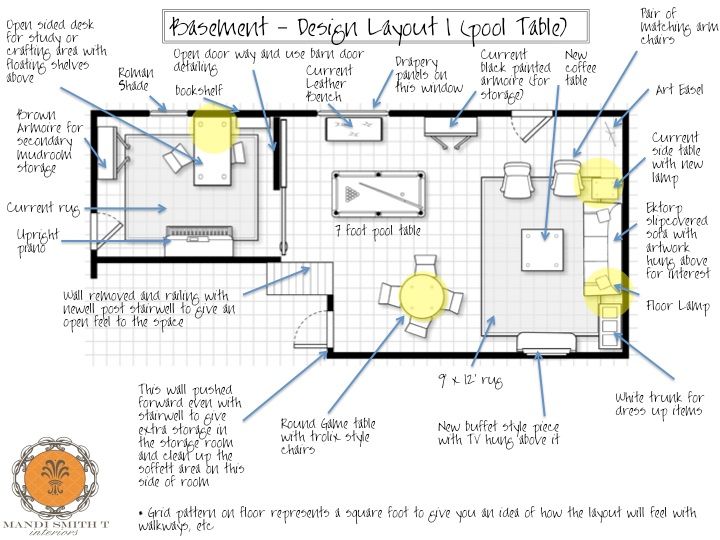 I also did a secondary layout that would maximize seating in the area - this is super important if the main function of this room is for watching football with friends!
Then, using the same basic furniture pieces, I created a different layout. This is helpful for the client to see that they can make the space feel fresh an new by simply changing the layout of the pieces they already have for a new look.
In addition to planning the perfect layout, there are a few other elements that can really change the way a basement area feels. The single most important element would be lighting. It's super important to make sure you have plenty of overhead lighting as well as layers of additional lighting in the form of floor lamps, table lamps, wall washers and /or sconces. This will allow the space to feel light and airy as opposed to dark and cave like. Here are a couple of other construction details that can really transform the feel of a basement area.
If you have a soffit area than simply has to stay, consider creating an angled soffit (rather than a traditional boxed soffit). It makes a huge difference visually to the space (especially if the ceilings are lower).
Lastly, this detail and really change the first impression you have as you enter the basement. By opening up the stairwell on one side to the basement, you will get a much more open spacious feel. Rather than feeling like you are entering a dungeon. It works!
Looking for a bit more space, it may already be waiting for you just under foot. M.