There are times when you need to use your formal dining room for more casual entertaining. There are some tricks to make it feel more casual without having to redecorate the space. Here are a few ideas when used together you can really create a casual but memorable party.
Consider the Menu
The type of food you are serving really sets the tone for the formality of the party. If you are serving Osso Bucco the atmosphere is quite different from a Hearty Brunswick Stew. The trick is to dress up a more homestyle menu or dress down a more formal menu. Here is a menu example that would work for a casual dinner party in your formal dining room.
Arrival of Spring Casual Supper
Opening Cocktail And Small Bite
French 75
(these are my new favorite drink)
Bruschetta with Mozzarella and Fresh Favas
Main Course
Herb Roasted Chicken with Melted Tomatoes
Fried Smashed Potatoes with Lemon
Balsamic Braised Brussels with Pancetta
Dessert
Traditional Bakewell Tart
(I think dessert feels more casual with you cut slices
rather than serving individually made desserts)
French Pressed Coffee
Select Your Centerpiece Carefully
While it may look easy and casual, when trying to get your formal dining room to "read" more casual you have to work at it a bit. Contrast is the trick - use a more formal container with loose more homey flowers to get the look. Alternatively, select more formal flowers and think about using a rustic container for the right balance.
via
Balance the Elements in Your Table Setting
As I mentioned before, I love to mix my simple white everyday china with my sterling silver. I think it adds some glamour without making your guests feel like they need to be wearing a coat and tie. Also, I love texture and contrast which can also bring in a more casual feeling to your dining room. Sometimes I eliminate the table cloth all together and just use round placemats in a contrasting color. This gives the room a more casual atmosphere.
Also worth mentioning - the proper table setting for an informal dinner party. This alone will completely change how the party feels.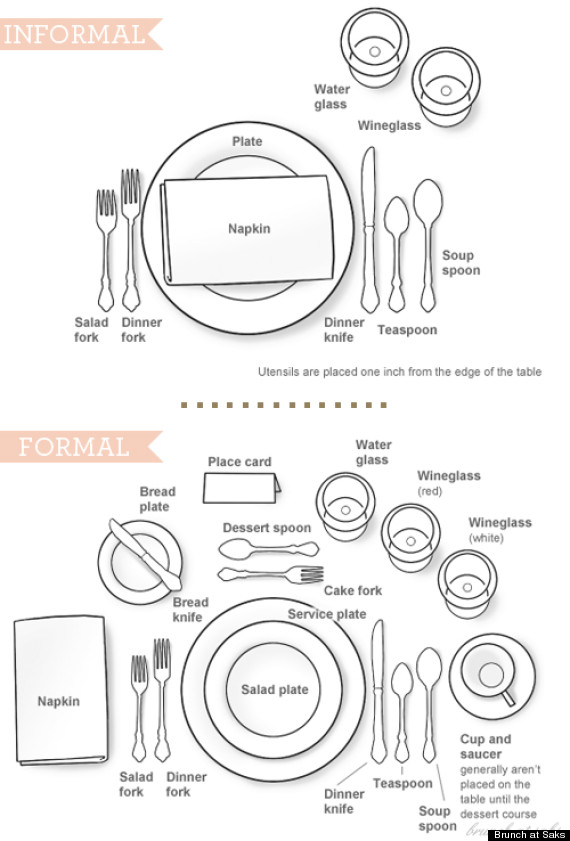 Which brings me to my last point. This happens in the Smith T house a lot! We decide to host a casual dinner party for ten. By the time the party rolls around, my hubby has invited more couples than I have seating at our dinner room table. The easiest solution - make your hubby eat in the garage turn the dining room table into a buffet and serve a more pick up friendly menu. Done. And to be honest, parties seem to be more fun with more couples.
Another note, when I'm using my dining table as a buffet and serving dinner (rather than a cocktail party with lots of pick up items), I like to remove a leaf from my dinner room table. That way the food looks more bountiful (even if you only have one main items and a couple of sides) - on a smaller table. Rather than a few items on a sea of table! Just a small trick, but it works. Now that Spring is almost here, it's time for you to host a casual supper with friends! M.