Wow - it's been awhile. Like over a year since I posted on the blog. I attended the
Antiques in the Garden Gala
this past week and had several people ask me why I'd not blogged in forever. The truth is - I'm super busy with design work, and it leaves me no time to blog. While this is a huge blessing, I do feel a bit sad not to post more frequently. With that said, I am posting in honor of those of you who asked me about the blog this past week.
Who doesn't love a good before and after? These images represent a project lasting almost a year. During this project we touched almost every room in the home. This wonderful couple live in Vestavia Hills. These are just a few of the after images. If you have time, click over to my
website
to see the rest - we took a lot. Also, I huge thank you to
Birmingham Tours
who photographed this project for me.
So, I loved working with these clients. They had a very interesting mix of styles - a very chic modern aesthetic but also a lovely sentimental side with many traditional vintage pieces handed down from their family. They wanted to work some of these items in and create a completely fresh take on their home. So, we started by editing out all the red from the home (including new hardwood floors). We then paired the fun purple accents (the purple velvet sofa was in great shape and we decided to keep it as well as the super comfy club chair) with a contrasting green. The result is a completely different look. Here are a few befores and afters of the spaces:
Foyer Before:
Foyer After:
Notice some of the changes here - new hardwood floors, new stair rail and carpet runner, and new furnishings. We kept the fabulous winged back chairs seen in the before images and used in them in the master bedroom for a pop of color (the images of the new master bedroom are on my website if you're curious).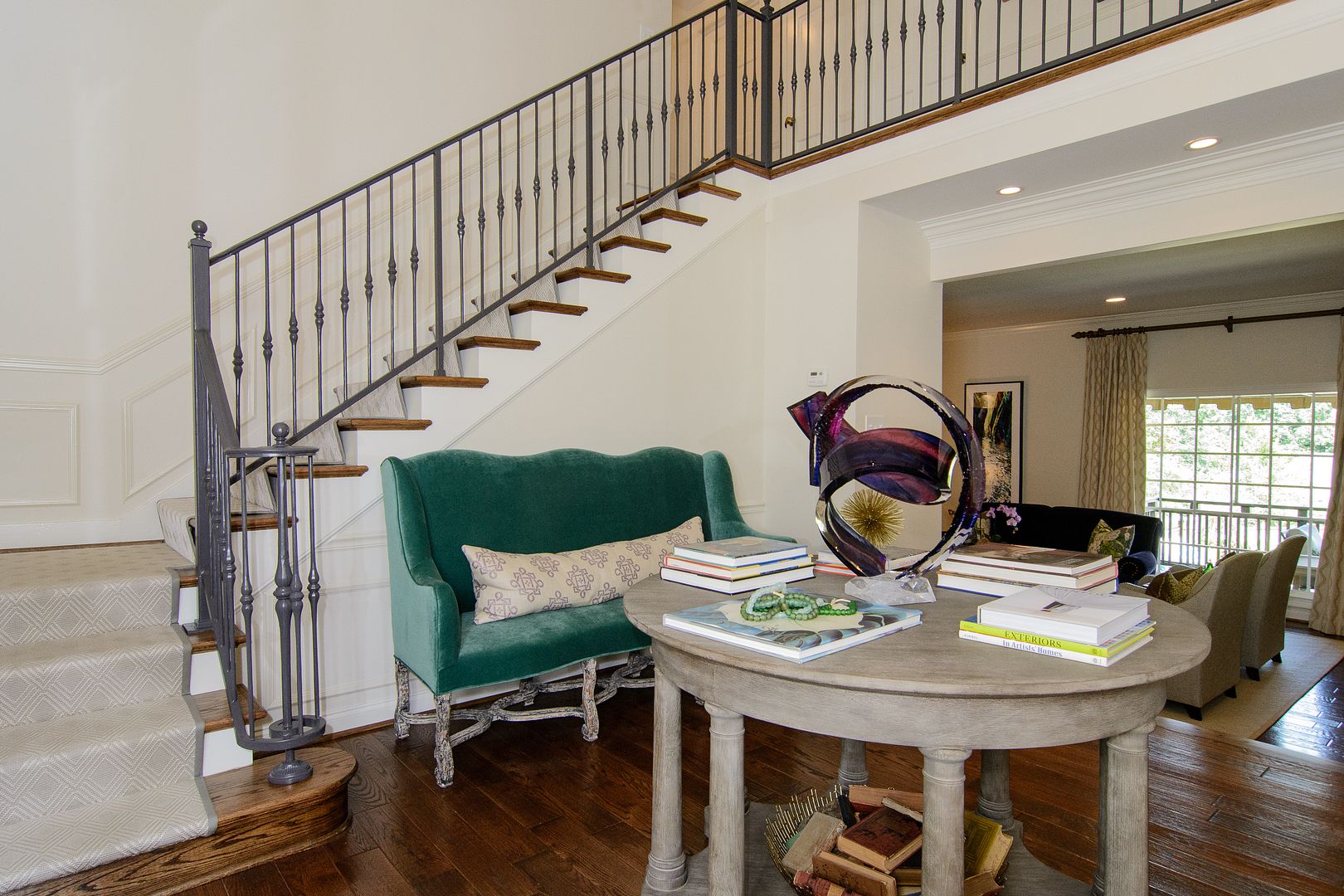 We kept the chandelier in the foyer but raised it so the center table became the focal point with all the interesting accessories. We also added a curtail step to the stairwell to make it feel more open and inviting and then completed the look with an iron rail finishing at the bottom with a beautiful volute detailing. The stairwell runner is done in a super durable indoor outdoor carpet which reads like a wool/sisal.

The purple sculpture was a gift to the homeowner from a very dear friend, and we played it up by placing it in the center of the table as you walk in the front door. A nice mix of modern and traditional styles.
Main Living Space Before: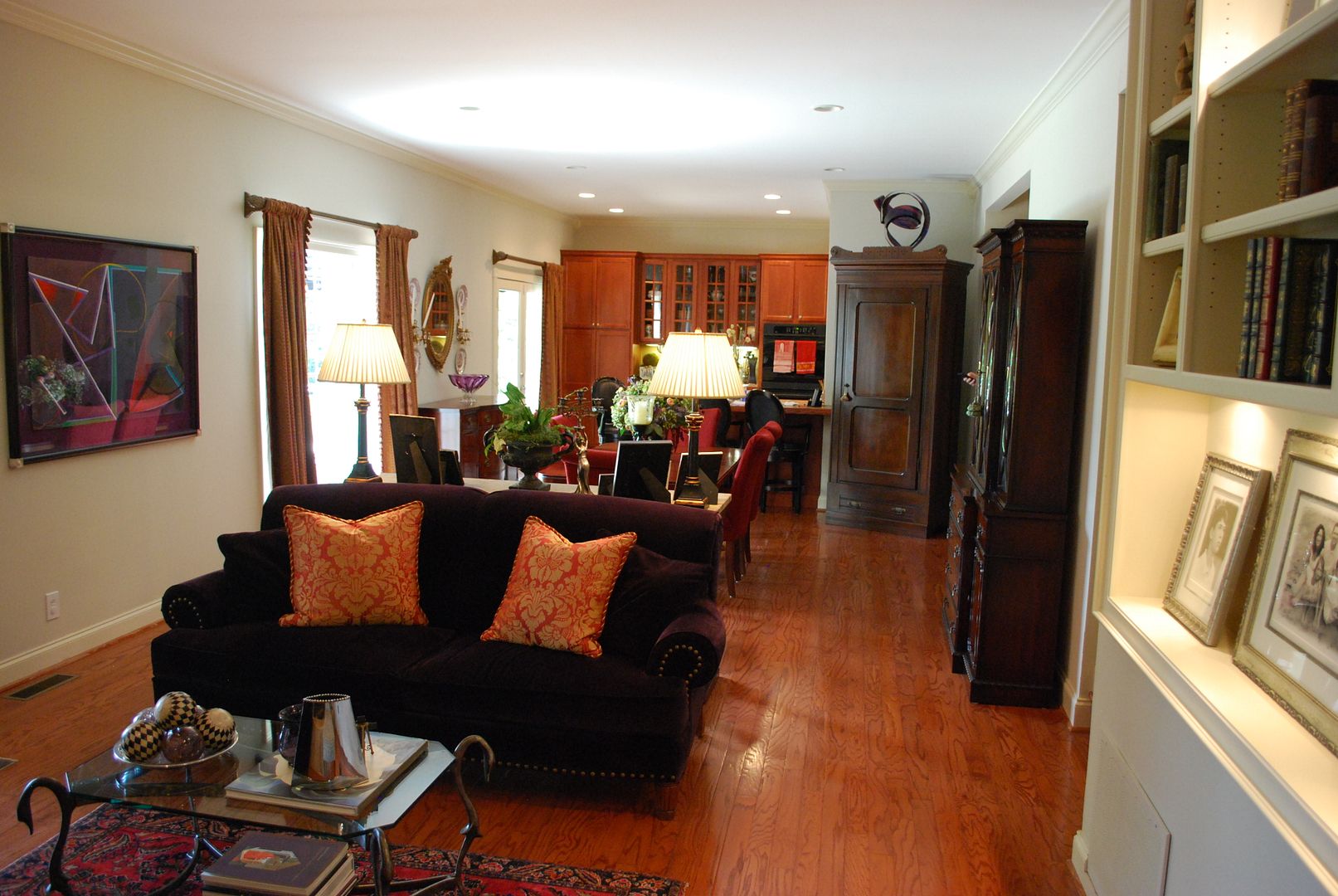 Main Living Space After:
As you can see, we flipped the seating area with the formal dining space which allowed us to create a larger hang out space with more seating. New draperies hung up to the crown molding really makes the ceiling feel taller in the space. Since drapery hardware can be very expensive, we retro fitted what they already had to create a larger profile on the windows.
Main Living Space Before:
Main Living Space After:
We took out the TV built in next to the fireplace and came back with a lovely china hutch. We also had new dining chairs custom upholstered in a
Crypton
fabric for durability on the seat and a gorgeous silk on the backs for a nice blend which works for both formal gatherings and casual dining. We styled the former bookshelves more in keeping with a dining room and used important pieces that held sentimental value to the clients.
The overall look is an inviting space that accommodates lots of guests for parties while still perfect for a relaxing night home with just family.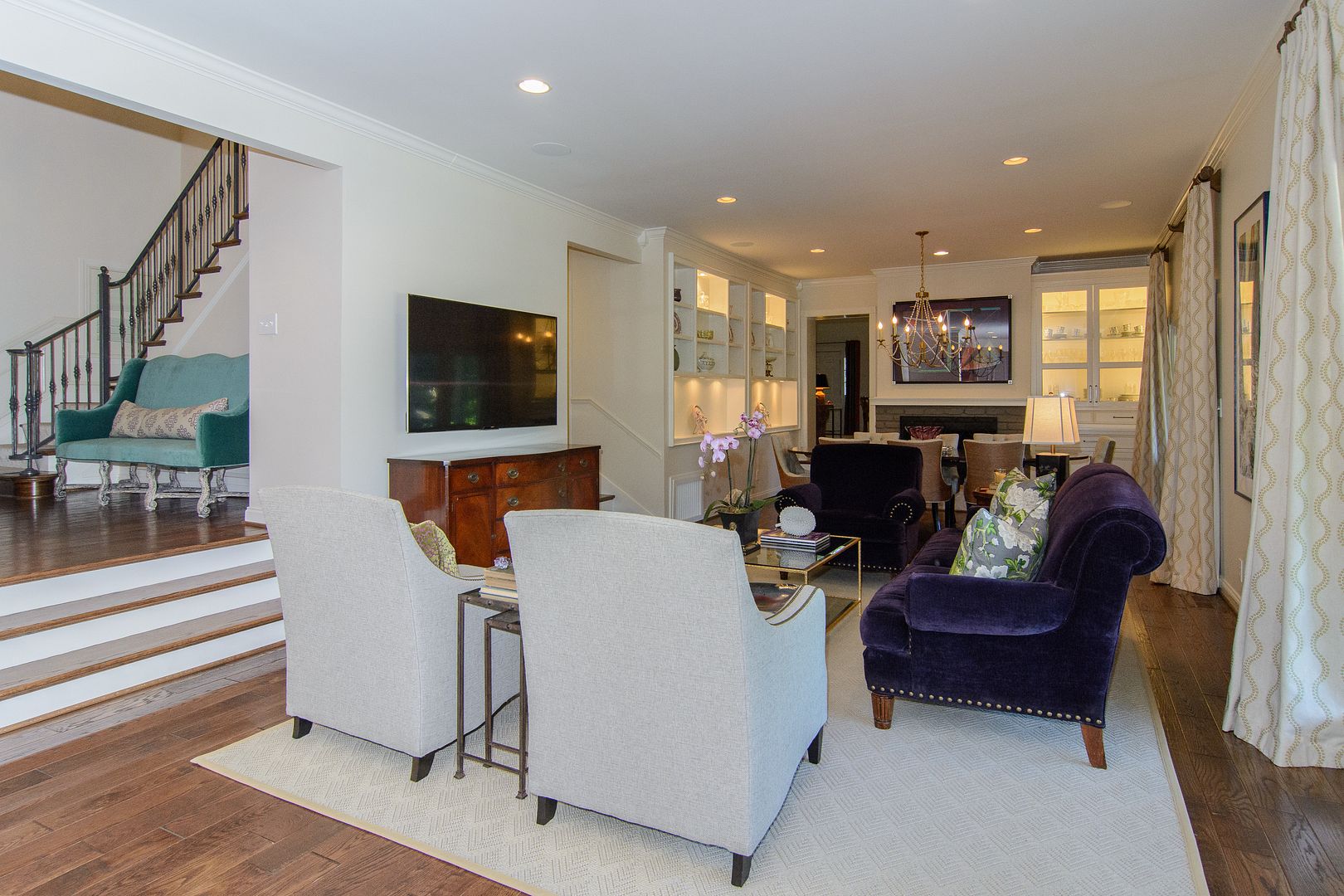 If you would like to see more of this project, click over to my
website
and take a look -
Mandi Smith T Interiors
- Enjoy your week and the gorgeous Fall weather.